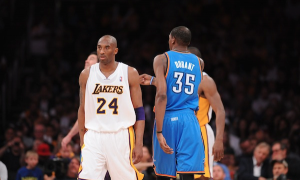 Kobe and the Los Angeles Lakers blew a golden opportunity to steal a rare road win in Oklahoma in Game 2 of these series. After leading for much of the game, they collapsed at the very end, with OKC blasting a 9-0 run in the final two minutes to claim what could prove to be a decisive victory. Most folks have now completely written of the Lakers' chances of winning this Western conference semifinal, predicting it will end in no more than five games. But our NBA betting analysis and OKC Thunder at LA Lakers Game 3 prediction suggests otherwise.
Obviously this particular Thunder at Lakers Game 3 prediction has to take into account the previous two encounters. The opener was a blowout win for OKC, but that was more or less expected, since Durant and Co had nearly a complete week off resting and preparing, while the older Lakers had to go through a Game 7 just to get out of the First Round. But then came the rematch in which LA made some quite effective adjustments, and were able to slow down the pace of the game, and keep OKC in under 80 points, which is quite rare. However, they went completely missing in the decisive moments of the game, where Kobe failed to exert his presence and instead of hitting another one of his trademark game-winners, he decided to pass up the ball to Steve Blake who missed a wide open 3-point shot with just 4 seconds left.
It is true that OKC are the better team here. They are younger, and as a result much faster and more energetic than the Lakers. In our expertise, the most accurate NBA prediction you can get right now is for a Western Finals between Thunder and the Spurs. But the Lakers should not go down as quietly as last year, when they were swept by the future champs from Dallas. LA does have some advantages over OKC, and if they can manage to stick to them, they can definitely win a game or two at the Staples Center.
The only way for the Lakers to get back in these series is for Kobe to go crazy in terms of scoring probably nearly or over 40 points, in combination with Bynum and Gasol posting double-doubles and some of the role players like World Peace, Blake or Sessions chipping in with double figure points. Mike Brown is known for being a defensive minded basketball coach and LA have to slow down the Thunder once again, be strong on the defensive end, rebound the ball, and play inside-out. These are some of the main keys to this NBA betting pick and OKC Thunder at LA Lakers Game 3 prediction.
The advantages for the Thunder and also their keys to winning Game 3 are as mentioned, their faster brand of basketball. It seems that LA (much like the entire league) has no answer on the defensive end for Russel Westbrook. The guy is so quick with the ball, so explosive and energetic that he is practically unstoppable. In combination with the league's leading scorer for the past three seasons, Kevin Durant, and the current Sixth Man of the Year – James Harden, OKC have the NBA's highest scoring trio. If they have a solid performance, it won't be surprising to see them get an away win in LA.
NBA Betting Verdict: To get the best betting pick for this game, sign up for our service.