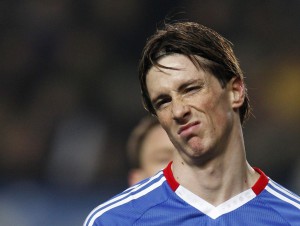 The 18th of September 2011, marks the first Super Sunday in the Premierleague with the biggest derby of all being analyzed in our Man United v Chelsea prediction. A massive game awaits the fans at Old Trafford, and the millions that will be watching on TV. Those two clubs have won the league for the past seven years, so it's only fair to say that this is indeed the biggest match in English football at the moment. United have made the better start as they have set a new record for most goals scored in the opening four matches – 18 to be exact. Rooney's newly implanted hair also appears to have given him a huge boost as he has refound his scoring touch. Meanwhile, Torres is on the exact opposite end of things and everyone's wondering if he will ever start scoring again.
It's never easy to give an accurate Man United v Chelsea prediction, as these are two sides that are basically on par in terms of squad quality. The reds do appear to be the better performing side so far, but you cannot make serious conclusions after only five games. Truth is that SAF's men are younger and perhaps more dynamic, but Chelsea have experience on their side, and that could be decisive here.
If there is one position that Chelsea deifnitely have advantage, that's got to be the goalkeeper. David de Gea has beeb under serious pressure from media and fans, all sugesting that he is not ready for the big stage just yet. And it is a fact that he did put some pretty unconvicing displays, whereas his replacement Lindegaar had an excellent game in the 1-1 draw against Benfica this last Tuesday. Ferguson went on to defend his new Spanish signing by saying the following to the English press: "They seem desperate for the boy to fail. He doesn't speak English, was looking for a house but has got one now, and is learning to drive in England. He's 20 years of age and doesn't know the culture of the country. I think that's a lot to deal with but he's shown great composure about the whole thing. He's not got himself flapping about the goalmouth. I think he's absolutely outstanding – the boy is tremendous."
Manwhile, Chelsea had Petr Czech back between the sticks in their midweek clash against Bayer Leverkusen and he immediately recorded a clean sheet. Czech is one of the best keepers in football right now, so Villas Boas will be pleased to have him against United. His experience will definitely be a huge lift factor in this Man United v Chelsea prediction.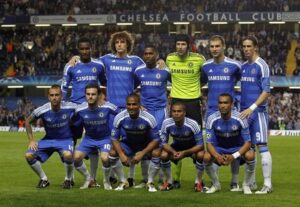 Going into this game, most people are seriously underestimating Chelsea. There are sayings that they are now too old, which is complete nonsense as Rio Ferdinand himself analyzed at United's official website: "I don't go along with that. I think they have plenty of top-class players who are still under 30 to provide the energy: [Branislav] Ivanovic, [David] Luiz, Ramires, [Petr] Cech, [Daniel] Sturridge, [Florent] Malouda, [Juan] Mata, [Fernando] Torres… these guys are in the prime of their careers.
And it is true. Mata has been a serious improvement to the team bringing in a lot of energy on the left wink and speed. Daniel Sturridge is showing tremendous development and is already turning into a star striker at the age of 21. He scored an absolute cracker against Sunderland in the last round, so with Drogba's injury right now, I expect him to start against United. Luiz has also returned to the site and despite being a defender, he's scored more goals than Torres for Chelsea. Raul Meireles who was again scandalously signed from Liverpool (ain't it funny how such "rivals" like Chelsea and Liverpool swoop players nowadays) is a top quality midfielder, a personal favorite of Villas-Boas back from their Porto days. So the Blues are strong and that's why we execpt them to stop United's run. A draw or a surprising win could well be on the cards.
Of course, when people talk about Chelesa, there is always the Fernando Torrest drama on focus. The most expensive player in the history of the EPL has turned out to be the biggest flop ever. Torres does look like a complete waste of 50 million pounds as he has found the net just ONCE in twenty one games for his new club. And truthfully, it does not look like a temporary form issue anymore, but more like a permmanent loss of talent. Ever since the World Cup in Africa in 2010, where he did not score even a single goal, despite Spain going all the way, El Ninho has been looking shaky and without any sort of confidence in his own abilities. All forwards go through a scoring draught at some point, but it normally takes just a few games for a real goal poacher to find his rhythm again. But when things go that bad, there are no guarantees that the player will get back to his best. Ancelloti and now AVB have given him so many chances and yet he has failed to deliver.
Torres' personal insecruities are now hurting the entire team, and the longer his scoring draught gets, the more likely it becomes that he will never get back to what he used to be. There are some factors about this particular Man United v Chelsea prediction that are in his favor though. Back in his Liverpool days, United were one of his favorite opponents, and now that Drogba is out, because of the head injury he picked up two weeks ago, Torres will be given yet another big chance on the big stage. If he does score today, it will be a huge lift personally and will definitely help him regain his confidence. Bet365 offers 3.10 for the Spaniard to Score At Any Time, which is certainly a nice price worth considering.
Man United v Chelsea Prediction: United have not lost at home to Chelsea since 2005, and this will be Villas Boas's first game against Aleg Ferguson. United have been in superb form so far this season, but if there is one team that can stop their run, it's got to be the Blues. The online bookies are offering some super value odds on Chelsea to win at about 4,50 (by bet365), while the Reds can be backed up at the modest 1,83. The draw is likely as well at 3,50. The standards of the EPL are such that these big matches do provide a good spectacle meaning that Both Teams Will Score at 1,80 is one of the best betting picks for today too.
Both Teams to Score @ 1,80 – Best Accuracy
Over 2,5 Goals – Best Accuracy