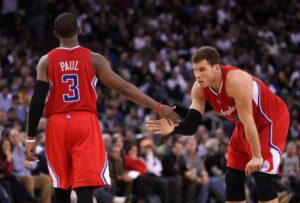 With just a few matches left in the regular season, the battle for the last Playoff spots is getting harder each day. The Phoenix Suns are fighting for the eight and last spot in the Western Conference with Utah Jazz who took advantage last night as Suns lost at home to OKC, while Jazz defeated a weakened Blazer side. However, the team that has landed in Phoenix are the Clippers who are involved in just as tougher battle. They are fighting for their first ever Pacific title and need to overcome the Lakers in the standings. So with both teams having everything to play for, who will prevail is what we try to answer in the best NBA betting pick for tonight.
The bookies are favoring Suns to get the win here, mainly because it's their last chance to get that last Playoff spot. But there are two other teams involved in this race that are just as good, if not better – Jazz and Houston Rockets. Suns and Rockets have an identical record with 32-30, while Utah are at 33-30, so they've played one much more. Anyway, it's a really interesting battle and it guarantees that Suns will go all-out tonight, and that they will their main strength. A win for the Suns against the Clipps is valued at 1.76.
However, we feel that the better bet here is on the Clippers who are available at 2.10. In essence – you are getting better odds on the better team, and that's always a good sign. There is no doubt that LA are better than the Suns. They got a starting five of Chris Paul, Blake Griffin, DeAndre Jordan, Caron Butler, and Nick Young. Kevin Martin is part of their second unit featuring none-other than Mo Williams, who is one of the better shooters in the entire league.
As said, the only factor that can stop LA Clippers from getting the W in Phoenix is the home team's do-or-die attitude. Other than that, LA are superior, and they should be quite motivated as well, because nothing is certain in the West. Just a couple of losses can have them overtaken by Memphis, but a single win is what separates them from the 3rd-placed city rivals – the Lakers.
Betting Verdict: LA Clippers to Win @ 2.10