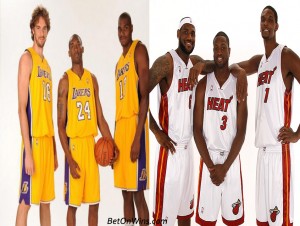 It's the biggest match of the 2011/12 NBA calendar as tonight's top NBA pick comes from our Lakers at Heat prediction. This is a game that basketball fans worldwide are always looking forward with Kobe taking on LeBron of course being the main event. But there are other great match-ups here as Bosh goes up against Gasol, and Bynum looking to dominate Joel Anthony. Wade missed Miami's last game against the Spurs, which turned out to be a great comeback win, and is now listed as questionable for this one. These are just some of the keys to our La Lakers at Miami Heat prediction for January 19th, 2012.
The top two leading scorers in the league go head to head in this one as Kobe leads the way with 30.8 ppg, while LeBron is close second with 29.8. The Kobester is making nearly 46% of his shots and that's not a bad field goal percentage, especially given his age – 33. He actually became the oldest player to score 40 or more in four consecutive games! That run ended in the team's last win against Dallas when Fisher hit the game winning three, while Bryant ended with just 14 points in a low scoring affair (77-74 for LA).
The presence of Wade is the key to this Lakers at Heat prediction. He has not been in great shape recently, having missed five games already in those early weeks of the season. He is not the youngest star in the NBA either, so age is probably starting to catch up with the Chicago native star, as he is 30 right now. His birthday was on the 17th of January when he missed the great comeback win against San Antonio. The truth is that is having the worst season of his career thus far. His scoring average has dropped substantially to 19.8 ppg in 43.9% shooting, and he has not taking a single three pointer so far this season! He is also making just over three turnovers per game, so his stats definitely aren't great this year.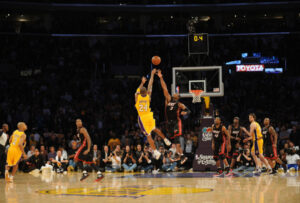 One of our LA Lakers at Miami Heat predictions is that Wade will play, because he has had 5 days of rest, since his last match which was the loss against Denver on January 14th. That is plenty of time for such great athlete to recover, or at least be in much better condition. He surely wouldn't want to watch the Lakers game on the sidelines as a regular fan. This is one of the biggest stages and big players like him are always looking forward to play in them and are ready to forget/overcome whatever minor injuries they have. So we expect Dwyane to play, but it won't be easy for him against Kobe and having to deal with the presence of Bynum and Gasol under the rim.
And in case Wade does not play, because that possibility is real, then that would be a huge advantage for mister Bryant and Co according to the our most accurate NBA betting tip for tonight. Should Wade miss this one, Miami will be without their best game closer, and a tight matchup as this Lakers at Heat prediction, you know the score is going to be really close in the final minutes of the fourth quarter. That's the time where the Black Mamba likes to strike, and that will be a huge advantage for the visitors here. So one of our free NBA betting tips here is for you to wait till the official lineups come out before you go and wager on this game.
If Wade doesn't play, Miami's starting line against LA will be composed of Anthony (C), Bosh (PF), James (SF), Jones/Miller (SG), Chalmers (PG). James Jones has already started in four games in the absence of Wade, but Mike Miler had an incredible season debut game against the Spurs in their last game scoring club-record six 3-pointers in the 3rd quarter to give Miami a 20-1 run that would eventually set them up for the win. Center Eddie Curry could make his debut tonight. Otherwise, the rest of the reserves for them are the energetic and highly productive Haslem, the impressive rookie Cole, and Shane Battier.
Another side of this LA at Miami prediction and making it one of the better NBA betting tips you will get for tonight, is Mike Brown. He is the guy that coached LeBron during his MVP seasons in Cleveland, and now is the successor of none other than Phil Jackson at the Lakers. Logically, Brown who is known for being a coach emphasizing on defense, knows all about LeBron's game and is probably in the best position among coaches that try to deploy a tactic to stop him. Mike Brown will give somewhat an advantage to the Lakers in this one.
Another accurate Lakers at Heat prediction is that Brown will start with Bynum (C), Gasol (PF), Barnes (SF), Bryant (SG), Fisher (PG). What has been happening is that coach Brown has been giving Kobe plenty of playing time this season, and the star likes that. Kobe has been playing over 40 minutes on average, and in big games, he is playing even more. They are now in such a stretch, having played against the NBA champs in their last game, now away to Miami and tomorrow in Orlando. So Kobe will get to play 40+ minutes here. Steve Blake is out of this one, while Josh McRoberts is doubtful. The absence of Blake could actually be a good thing for them.
Another key to making NBA winning tips is in the analysis of the benches. We already talked about Miami's second unit. The Lakers have taken a step back this season as they lost Shanon Brown and Lamar Odom, but the additions of Troy Murphy and Josh McRoberts have been both been a good move. Of course, Metta World Peace is there, and Jason Kampono has been giving them a perimiter threat.
Lakers at Heat Prediction: Kobe is the best closer in the NBA, and that always gives the Lakers an advantage in such even cames as this one will be. He has a bad record against LeBron and would like to correct it having lost 9 games in 11. Mike Brown should know how to stop James, and Wade could be missing or not be in good shape. Bynum and Gasol give LA an advantage on the inside. All in all, the value is on Lakers and our money is on them for tonigt as we look to tripple our bank.
NBA Betting Pick: Lakers to Win on Money Line @ 3.15
*Latest Update: Wade has been confirmed out of tonight's game!