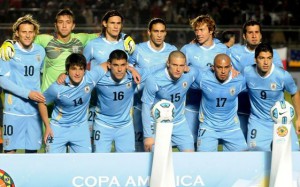 The first 2011 Copa America semifinal features Uruguay versus Peru, while tomorrow we will know the other Finalist in the match between Paraguay vs Venezuela. It has been a thrilling tournament so far, full of surprises with the main favorites now out. Argentina and Brazil stumbled in their penalty shoot-outs, which makes us wonder just how real these games were. Anyway, back to the teams that are in the final four, and our Uruguay vs Peru prediction. It's interesting to note that these two teams already met in the Group stage as the match ended in a 1-1 draw after goals from Suarez and Guerrero.
This is definitely the more interesting semi between the two, as both sides are pretty much even in terms of quality, although the Uruguayans do have the edge here. Peru outsmarted the favorites from Colombia in Extra Time as Guerrero and Vargaz proved to be a powerful duo up front producing all sorts of difficulties for the defense and then created the second goal out of nothing. With these two plays in attack, Peru can score against anyone, but as we said already, Uruguay has the edge in terms of quality and have more skilled players in their squad.
With Suarez and Forlan leading the attack, the Urus are probably the most dangerous side left in the competition. And then they also have Cavani available on the bench to cause even more trouble. Gargano has been great in midfield, while Muslera has proven to be the goalkeeper revelation in the tournament. The problem though is that according to the latest news related to this Copa America match and betting prediction, Cavani has been ruled out with an injury, while Diego Perez is suspended due to his red card in the previous round against Argentina.
Uruguay v Peru Prediction: It has been a low scoring tournament thus far, but we expect this trend to change in those final stages. Our betting tip here is for Both Teams to Score (Goal/Goal), and Over 2,5 Goals. In terms of who will go through, our money is on Uruguay who should be able to take care of business in regular time @ 1,80 courtesy of betonwins.com
Goal/Goal @ 1,80
Over 2,5 @ 2,60


Sign up with bet365 to watch live Copa America now!