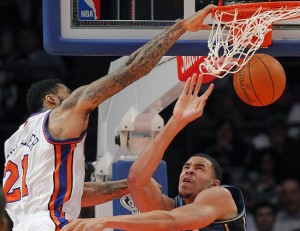 The last game of the Friday Night series of matches from the NBA features Knicks traveling to San Francisco to play the Warriors. While the Warriors have been one of the pleasant surprises at the start of this season with 7 wins from 11 matches, we certainly can't say the same about the Knicks who have a record of 4 wins and 8 losses. These two teams met last week in New York where the Warriors put on a strong performance led by former Knick David Lee (finished with 28 points and 14 rebounds) and won by 122-117.
Key to this Knicks at Warriors prediction is the absence of David Lee. Lee was the man who Knicks had to trade away in order to get Amare, but if you look at these two players they are pretty much on par.During his last season in New York, David Lee averaged 20.2 PPG and 11.7 Rebounds per game! That's a double-double every night and combined with his energetic style of play, it's no wonder why he became a fan favorite. However, Knicks' management decided to trade him this summer in order to free off cap space to acquire Stoudemire.
But if you look at their numbers, Amare is not that much better than Lee – their stats are just about even – 20 PPG and 10 RPG. Of course, Amare is the more popular player and it was a chance for the Knicks management to at least get something from this 2010 free agency frenzy. Bottom line is that these two players will always be compared from now on and yet Amare isn't that much better except for the fact that he costs 5 times more.
David Lee was voted Player of the Game when the Warriors defeated Knicks at the MSG last week with that 122-117 scoreline. Lee contributed with 28 points, 10 rebounds and 4 steals! However, he will miss out tonight's game in San Francisco, on November 19th, as he had to undergo a surgery to eliminate an infection caused by a cut in his elbow suffered after colliding with Wilson Chandler in that same ball game. So with Lee out, the Knicks will have a much better shot at the Warriors and certainly have a better chance of escaping with a win here, because David was the main reason for that 122-117 loss at the Garden.
A very important factor in NBA betting and basically in all sports betting and predictions, is to identify runs and trends and bet against them because they will end. You might miss one time but you will be able to get them on the next attempt. So what info do we have for this particular Knicks at Warriors Prediction? The Knicks have not won in San Francisco against the Warriors since 2001! So that's 10 years now with an away win at Golden State and we feel that can finally change tonight.
The Knicks have a nice group of young players that match up well against teams from the West because this particular Knicks team is build for speed. They need to run on the open floor as that's the style preached by coach Mike D'Anthony since back in his days at Phoenix Suns. Wilson Chandler is seriously improved this season, Raymond Felton is a guy that can be crucial in their quest to the Playoffs . The rookie Fields is proving to be a good choice averaging 10.8 PPG with 6.7 rebounds. Then there is also Danilo Gallinari and Amare Stoudemire who can explode at any time. New York already played well on this Western Conference trip losing only by 2 points at Denver (120-118) and then coming up with the win at Sacramento where they defeated the Kings 113-106.
Knicks at Warriors Prediction: Knicks will be out to hand Warriors their fist home loss of the season plus it's about time for history to change as the Knickerbockers have not won in San Francisco since 2001! David Lee's absence is also another strong factor in this betting tip.