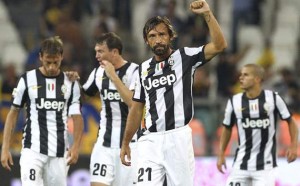 The most interesting match from toady's Champions League is this Chelsea v Juventus prediction. Both clubs start the competition in the city where they would like to finish it – London, since the final in 2013 would be played in Wembley (again). Juventus is a club filled with pride and eager to comeback with a bang among Europe's elite. However, that would be no easy task to accomplish since up against them are the current title holders from West London.
It's a fact that Chelsea have a more expensive squad, but the dollar signs do not play on the field. It's all about the hearts of these 22 men, and in that particular aspect, we do feel that Juve will approach this game with much larger doses of adrenalin and motivation. The Torin giants also have plenty of confidence among their ranks since they are currently on an astonishing run of 42 straight matches without a defeat. Meanwhile, Chelsea have won their last six home games in the Champions League. These are all crucial facts for making the most accurate Chelsea v Juve prediction.
The Blues have practically a fully fit squad with John Terry and Ashley Cole declared fit for this game. Hazard should once again be the player to provide the creative spark for them, and Juan Mata should get some playing time after being rested for their goalless draw against QPR last Saturday. Lampard and Torres should also be given a place in the starting lineup.
Roberto Di Matteo had some interesting comments about this Chelsea v Juve prediction in front of UEFA.com: "Juventus have been on a fantastic unbeaten run and have some quality within their team – experienced players, young players, dynamic players. It's probably one of the most difficult fixtures you could have picked in this Champions League. They are a difficult opponent. We have three champions in our group – the Danish champions and Ukrainian champions – so it's going to be difficult."
It's no coincidence that the Bianconeri have not lost in 42 matches in Seria A, even though the Italian league is not the toughest in the world right now. They have loads of class and talent in their ranks starting from goalkeeper Buffon, through Chiellini in defense, Pirlo pulling the strings in midfield, the dangerous Vucinic. Of course, we cannot overlook the little guy Giovinco, Matri, and Marchisio.
All in all, our Chelsea v Juventus prediction is for an even game that would be decided by the little details. The Italians are fueled by their ambition to get back with a bang in Europe, while Chelsea would be looking to prove just why their are the reigning champions.
Chelsea v Juventus Prediction: To get our actual betting pick, register here.