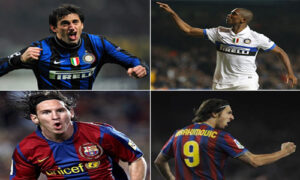 Believe or not but BWIN offers a total of 282 different bets for this single game about to be played at 19:45 GMT at Guizeppe Meazza tonight! There are a lot uncertainties about this Champions League semi-final and with so many bets to choose from, it's easy to get confused. But when it comes to football picks, predicting who will score the 1st goal in a match is one of the best bets available. After all, someone has to score first as we don't expect this match to end goalless and be a complete repeat of what happened in the group stages.
Bwin offers two types of bets when it comes to goalscorers:
– Which player will score the 1st goal of the match? (regular time)
This type of bet has a higher risk to it but the odds are much higher as well:
1) Samuel Eto'o -7.5
2) Diego Milito -7.5
3) Wesley Sneijder – 11.00

4) Leo Messi -4.33
5) Zlatan Ibrahimovic – 6.5

– Which player will score a goal in the match ?(reg. time/excl. own goals)
This bet is less riskier as your pick can score at the end of the game and you still win and best of all you don't care about how the game ended! Plus, you can compensate for the decrease in the odds by combining this bet with another winning selection of your choice but it can't be from the same game. Not all bookies provide this opportunity (like BetFair for example) but bwin does!
1) Samuel Eto'o -2.9
2) Diego Milito -2.9
3) Wesley Sneijder – 3.9

4) Leo Messi -2.00
5) Zlatan Ibrahimovic -2.6
Picking who is going to score at Any Time is definitely the more realistic type of bet here, but this is a special game that should be treated as such. The beauty about betting on 1st Goal scorer is that you can get your bet settled in just 2-3 minutes from the start of the match (Inter-Chelsea, Milito '2 min) and then use the money to make even more winning bets. Another advantage of Goal scorer bets generally is that you don't care about how the game is going to end which is perfect for such complicated and unpredictable affairs like the one tonight.
BetOnWins Football Picks: It's a very good idea to lay some money on 1st Goal Scorer in the match especially if you can break down the selection-headache (with so many high class players on the field) to no more than 4-5 players. Eto'o and Ibrahimovic are certainly good picks here because this game will be very special to both of them. The couple Argentinans Milito and Messi are also wise selections. Keep an eye on Wesley Sneijder who is extremely dangerous from long distance and free kicks. Bwin has seriously under-rated his chances of scoring in this game so we advise to take full advantage of that by placing the Dutchman among your picks. Wesley to score 1st is available at 11.00 while "Sneiper" At Any Time is 3.9, not bad at all.