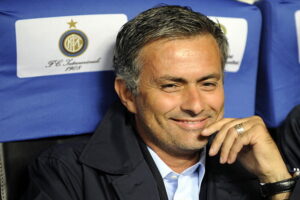 This semi-final tie is like a Final before the Final as whichever side wins will be regarded as clear favorites for the trophy. The stage at San Siro is set for a great game of football between two of Europe's best teams during the last couple of years. Internazionale have often been criticized for their failures on the international stage but this year they have made a serious improvement and it's mainly down to one Special man called Jose Mourinho.
Of course Barcelona are favorites for this game in 90% of people's minds, but the reality will turn out to be different. There are certain factors working against them tonight. For one, Barca is not the same team without Andres Iniesta as he will miss the game due to injury. Another major factor that will have a negative effect on the Catalans is their 2-day bus trip to Milano due to the volcanic eruptions in Iceland.
There are two records at stake tonight so something has got to give. First there is the almost incredible record by Jose Mourinho who hasn't lost a home game for over 7 years now (since his Porto days) and has now over 160 straight home games without a defeat! Barcelona on the other hand haven't lost an away match all season long.
Inter will be super-motivated for this match as they haven't lifted the European Cup trophy (now called Champions League) since 1965! We are talking about 45 year drought which is incredible given Inter's traditions. They can take strength from the fact they've never lost a semi-final match at home in this competition (have 7 semi-finals so far). Another interesting stat working in favor of Inter is that they have lost just once in 17 games against a Spanish opposition at home.
Barcelona's last loss in the competition dates back to 2008 in the semi-final against Manchester United which they lost 1-0. Two years without an away loss is too much for a balanced tournament like the Champions League.
Inter have a very strong and physical side right now playing their best football of the season. Everyone knows their top players so it's worthless to start describing them one after another. Everyone talks about Messi but football is a team sport. These are just some of the words that Jose Mourinho said in the pre-game press conference for UEFA.com:"Barça deserved to win in November. They are as strong now as they were then, but we are much stronger. I don't mind if the football world considers them favourites. Against us in the group stages Barca showed great superiority. They deserved to win and we didn't have the capacity to respond to their superiority. That was in November. They are as good as they were in November, but we are much better than we were in November. I accept this kind of analysis, I'm not offended by it, but I think it's 50-50.
Everybody talks about Messi, but football is not an individual sport, though of course he is a player who deserves special attention. I worked with Puyol ten years ago, but he seems to be the same player. He looks like a 21-year-old, not a 30-year-old. Success has not changed him and that's the best thing for a player."

BetOnWins Prediction: Inter to Win! This bet has a lot of value to it because you can triple your money as the odds for an Inter victory are 3.10 at bwin. The Italian supporters will create an incredible atmosphere at Giuzzepe Meazza which will give wings to the Inter players. Jose certainly knows how to surprise the Spaniards. Inter has one of the strongest defenses in the world as Julio Cesar is certainly one of the best goalkeepers right one while the four man ahead of him are just as impressive. They also got plenty of attacking power upfront with Sneijder, Balotelli, Eto'o, Milito and Pandev. The match promises to be a goal thriller so you can back up the Inter win with a bet on correct score for a Draw, like 1:1 and 2:2!