Tonight's top NBA picks features one of the biggest games on the NBA calendar with this Bulls at Knicks prediction. It's always bound to produce a classic whenever these two teams meet. Right now, the Knicks are in a real crisis having lost 9 of their last 11 ball games. Everyone in New York is starting to question the club's transfer moves, especially the Melo trade as a result of which they lost all their depth and are now paying a hefty price. The Bulls have preserved their core, in fact they have improved slightly in terms of their roster with Hamilton replacing Bogans. However, they suffered a bad defeat in Philly last night where they lost by nearly 20 points, and now they will be looking to avoid a second straight defeat, which hasn't happened to them in 12 months.
Carmelo Anthony is the man that should have propelled the Knicks to stardom, but things haven't exactly gone that way ever since he joined the party. In fact, NYK have a losing record after the Melo trade, while the Nuggets have improved drastically. Truthfully, Melo does have a nice style of play, an attractive one, and has a really pretty looking shot, but his game is far from effective. He is currently having the worst field goal percentage of his career scoring just over 40% of his shots, and being just 30% from 3-point range. He is taking a lot of bad shots, and tends to hold the ball way too much. That makes the Knicks offense very stagnant and predictable. In order for them to imporve, they have to figure things out on the offensive end, and do it fast too. How Melo addapts to the game tonight is a big factor in this Bulls at New York prediction.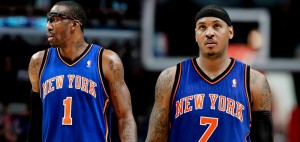 Another player whose performance will seriously influence any Bulls at Knicks prediction for tonight would be Amare. Stat has been having the worst season of his career from a statistical stand point. He has been looking really isolated on offense, even when Melo does not play. He is scoring just 17.6 ppg, at a really low shooting percentage by his own standards – 43%. For the Knicks to have any chance of winning here, he seriously has to step his game up.
When it comes to making the most accurate NBA betting predictions, one has really has to account for the personal match-ups. Of course, Chicago will have a serious advantage at the point guard position. The Knicks simply do not have a point guard, and their rookie Iman Shumpert is a big dissapontment at least in my books. He is taking way too many bad shots, he does not have enough vertical jump, cannot run their offense and does not have a good passing ability.
On the two spot, things will be pretty even with Hamilton a certain absentees, so Brewer will have to step up for him, but we know he is quite limitted offensively. The Knicks will have to take advantage of that, but that depends on how Landry Fields play, and he has gone missing ever since his rookie 2-3 months last season.
On the three spot, Deng is expected to make a much anticipated return for the Bulls which would be a huge boost for them, give that he is their second best scorer with 17.1 ppg. Melo might be the better player in attack, but he has to prove it with a strong performance tonight. Amare will go up against Boozer and that will be a very interesting match-up. Noah will have to contend Tyson Chandler from alley-ooping all the time and getting all the rebounds. Chicago's second unit is the better one here, no doubt.
Bulls at Knicks Prediction: The New York Knicks badly need a win here, in order to regain their confidence and feel a bit like a contender. Truth is that the Bulls are the better team, but anything can happen on a single night, especially at the MSG. Chicago are viewed as strong favorites by the bookies with odds of just 1.40 on them to win, which is definitely not worthwhile. Our money is on New York to finally play a decent game against a strong opponent and give their great crowd something to cheer about.
Betting Verdict: Knicks to Win @ 2.70