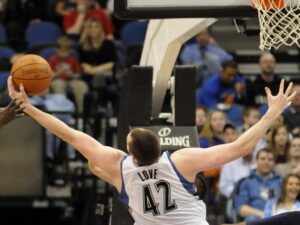 The Timberwolves are fresh of their first win of the season, and the new year as well when they defeated the champs from Dallas last night. Their young and energetic squad is now much more optimistic going into this game where they will be up against another experienced team – San Antion Spurs. With back-to-back wins against the two of the biggest powers in the West over the past decade, Minesotta can really make their Playoff bid real tonight.
Past v Future

We are going to give it to you straight. Our Spurts at Wolves prediction is for a win for the home side here, and we have some good reasons to believe in this betting tip. Firstly, the T-Wolves are a young and upcoming team, they are the future, while the Spurs belong to the past. That's the reality and even Greg Popovich wouldn't deny it. San Antonio are old and they have no realistic shot at the title. Tim Duncan is currently playing the worst basketball of his long career. His field goal percentage this season is below 40%, he shot 4 from 13 in the team's last game which was a win against Utah Jazz. In fact, that was coach Pop's 800th career win. So Duncan is poor and tonight he will be up against one of the best big men in the NBA – Kevin Love who has been averaging nearly 30 points and 20 rebounds per game recently.
Here is footage from Minesotta's win last night against Dallas:


Another strong factor is that Spurs' main threat comes when they are at home. On the road though, they are not so confident and often get beat up with large scorelines, as in their last visit, which they lost with over 20 points to Houston. The loss was so heavy that Pop decided to rest his old trio of Duncan, Parker and Ginobili early in the 3rd quarter. They are not so efficient beyond the 3-point line on the road, and we expect that to continue in a such a loud pumped-up crowd that attends the games in Minesotta these days.
And last but not least, Spurs have beaten Minesotta 17 straight times now, which is almost scandalous. It's about time for this trend to end, and games between these two opponents have been quite close in recent years, but the Wolves have improved dramatically this season, while Spurs have only gotten older. A bit of a news surrounding this game is that Michael Beasly will miss out, but that can be a good thing, because quite often he makes stupid plays and hurts the entire team with his egocentric style.
Betting Verdict: Timberwolves to Win @ 2.85 on Money Line