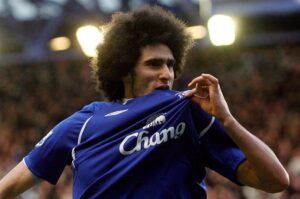 BetOnWins.com is providing you with the most accurate predictions from today's English Premier League, and it's a very interesting round 7 in which Manchester United are going for their first away win of the season, while Everton are without a win at all.
Birmingham v Everton Prediction
Everton are yet to win a Premier League match this season, having recorded 3 draws and 3 losses so far. David Moyes' men find themselves in the relegation zone and even if it's just the start of the new campaign, it still is a worrying fact for the Toffees. That's why a proper Birmingham v Everton prediction is to lay money on the away win here.
Here is what David Moyes had to say regarding this Birmingham v Everton prediction: "If you are in the bottom three you are in a relegation battle, whether it is after two games of the season or 32. It is still the same. If you are in the bottom three you have got to get out of it.It is a position – I don't know if you can call it false – and it is there staring us in the face. You take it and try to move away from it."

"Anyone who follows stats – not that stats are a great thing – will see we have had more of the ball, we pass the ball more than anyone else, we have had the second most crosses in the Premier League and the most shots on target."
Birmingham City on the other hand are on a record-equaling run of 18 matches without a defeat at the Saint Andrews, and such series eventually come to an end. That's why BetOnWins.com tips the visitors for this Birmingham v Everton prediction. Birmingham will be without influential midfielder Craig Gardner who is suspended. Gardner is their leading scorer so that should be a big loss for them. Another bit of bad news for the hosts in this match is that Scottish attacker  McFadden is also missing.
Sunderland v Manchester United Prediction
It appears that United's travel worries are over as they posted their first away win of the season in their midweek Champions League encounter against Valencia. The good news for them in this match was the fact that the defense didn't look shaky and that's because of Rio Ferdinand getting back to the starting lineup. Now with Rio fit, his partnership with Vidic in the center of Man Utd's defense provides the so badly needed stability in such though away fixtures.
Of course, there is no denying the fact that Sunderland are a dangerous side this season. They have lost just one game in these opening 6 rounds, and yet this defeat didn't came against Manchester City (1-0 win for Sunderland), Arsenal (1-1) or Liverpool (2-2). So the Black Cats are certainly capable of troubling the Red Devils today as they can rely on Bent's top form at the moment and the newly acquired Asamoah Gyan who shined in the World Cup for Ghana.These are all very important facts for BetOnWins.com's Sunderland v Manchester United prediction.
However, we still that after United having drawn their last 3 away matches will finally collect all 3 points here, especially given the fact that Chelsea might drop some points in their London derby against Arsenal. Rooney is missing for them but he is not at his best anyway so that's probably good news in terms of their chances of winning.
Bet On Manchester United to Win @ 1,75
Tottenham v  Aston Villa Prediction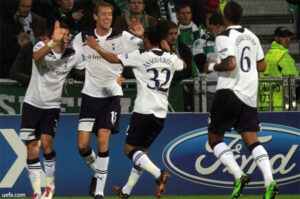 Tottenham are a punter's nightmare because you never know what's up with them. They lost their last EPL match gifting West Ham their first win of the season. That's why a good Tottenham v Aston Villa prediction is to bet on the home win as they will want to climb up the table. Of course, Harry Rednapp has to deal with a number of absentees with Defoe missing, captain Ledley King being a doubt, Dawson and Woodgate are out, William Gallas (groin) and Younes Kaboul (hamstring) both missing as well.
However, Tottenham should still be able to dispatch Aston Villa, because they are playing good football right now and can rely on Modric, Van Der Vaart, Lennon, Dos Santos, Crouch, Keane, and Pavyluchenko. A win will place them one point above Aston Villa so that should be another incentive for them.
Bet On Tottenham to Win @ 1,80
To get BetOnWins.com's expert predictions on a daily basis, Sign Up For Our 10-Day Betting Pack at the price of just 5$ and start getting all our betting picks for the next 10 days!

BetOnWins 10-Day Betting Package: ONLY 5 USD FOR 10 WHOLE DAYS!

Please keep in mind that all payments are processed at a secured PayPal page. You will receive a confirmation email containing your login details within an hour from receiving your payment.