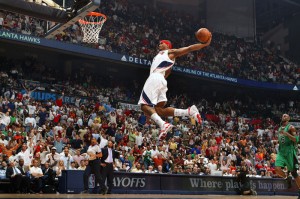 The Best NBA Friday pick comes from this Boston Celtics at Atlanta Hawks prediction. The 2012 NBA Playoffs start next week – on the 28th of April to be exact. However, the postseason has already began for some teams like these two that will square off tonight at the Philips Arena. With Boston (35-26) and Atlanta (35-25) almost having identical records, this game will determine who gets the home court advantage when they meet in the first round next week, as they have practically locked the 4th and 5th seed. So what we have here is a rather difficult Celtics at Hawks prediction.
An essential part of this NBA betting pick is the fact that the C's took the first two meetings of the season. Both games were low scoring affairs that went Under the 170.5 mark. The first Boston Celtics at Atlanta Hawks prediction and perhaps the most accurate one, is that both teams won't score much tonight either. Expect Boston to play hard defense to compensate for their lacks on the opposite end of the floor. The Celtics are usually involved in low scoring games when on the road, and that's mainly due to their tight defense, which prevents their opponents from scoring much, and their nag for slow, half-court type of basketball.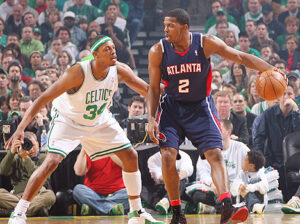 This game will of course present NBA fans with the great matchup between Paul Pierce and Joe Johnson. They are one of the best scorers in the game, and either one of them can become the difference-maker, according to our Celtics at Hawks prediction. Paul Pierce has been in superb form lately, as he scored 43 points against the Knicks on Tuesday, followed by 32 points in the win against Orlando at home on Thursday. Doc Rivers put it best by saying: "Paul is not flashy. I don't even know how Paul scores sometimes. He doesn't look like he's that quick but he is. He's got a gift. He's a professional scorer."
However, the main news about the best NBA Friday night prediction is the absentees for Doc Rivers. Celtics' best player of the season has been Rajon Rondo. He's had a number of triple-double games, and is currently on a run of 23 consecutive games with 10+ assists, overtaking Steve Nash for the Assist Leader Category in the process. If Garnett, Pierce and Allen are the Big Three, then Rondo must be the big ONE. Yet, Rondo got himself injured against the Knicks and he will now miss this game. The other significant loss is Ray Allen who did not travel with the team. Allen has been their distance shooter for years now, the real decider in crunch time, and a reasonable Celtics at Hawks prediction is that will miss him seriously tonight. And if that wasn't enough, one of their better reserves – Michael Pietrus also misses this game. Jermaine O'Neal is out for the season.
All these missing players will hurt the Celtics, who are down to just 3-4 really dangerous men on the court – KG, Pierce, Bass, and Bradley. The rest of their remaining squad are role players, and not particularly good ones either. We are talking about the likes of Doolings who can occasionally hit a three, Stiemsma to bring some energy under the rim, while Pavlovic and Daniels have been real disappointments this season.
For the sake of providing the best NBA analysis and predictions, we have to take the Hawks into perspective too. Their only notable absentee is an All-Star player that nears a return. Of course we are referring to Al Horford who is currently making a push to get back right in the Playoffs next week after missing the entire season. Other than that, Atlanta have a fully-fit squad with some quality players in it. Josh Smith and Joe Johnson are All-Star type players, Jeff Teague has stepped his game ever since last year's Playoffs. Kirk Heinrich is finally playing for them. Marvin Williams is there, but the real story for the Hawks this season has been the game of Ivan Johnson. This guy is a beast around the basket, can easily score 20 points and grab 10 boards. And don't forget that a guy named Tracy McGrady is coming off the bench for them as well.
Betting Verdict: Get our 15-day pack here.