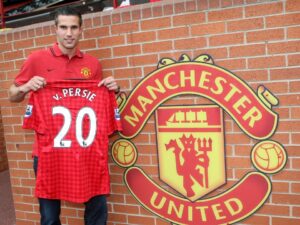 August 20th, the Monday night Premier League game features an interesting battle, so we give you our Everton v Manchester United preview and prediction. Alex Ferguson has a lot of concerns in defense going into this game at Goodison Park, where it's never easy for any away side to get all points. Of course, the main news about Man United over the last few days has been the transfer of Robin van Persie, the man who single-footedly kept Arsenal on course to Champions League finish last season. However, Ferguson expressed uncertainty as to whether the Dutch will start this game.
As pointed out already, Ferguson has to deal with some major absentees in defense, although his captain Nemanja Vidic will finally make his return, yet his form is questionable at the moment. The missing players are Rio Ferdinand, Johnny Evans, and Chris Smalling who is set to miss the next six weeks. The highly versatile Phil Jones is also unavailable for selection, so it's expected that Michael Carrick will play as a central defender, which will certainly create havoc at the center of United's defense. Something that Everton has to take advantage of, and David Moyes would know that better than anyone.
Therefore, we expect Everton to score at least one goal, which would automatically mean that we are looking at a Goal/Goal type of game, and Bet365 offers odds of 1.72 on that. Not a bad pick if you are looking to lay a lot of money on something with a high degree of certainty.
One of the better football predictions for today is that van Persie will make his debut as a Red Devil tonight, but we suspect that will come of the bench, with Rooney, the former Everton man will have to carry United's attack supported by Nani on the left wing and Wellbeck.
In light of this Everton v Man United prediction on August 20th, Rooney had some interesting insights to make in front of the club's official website: "I know as an Evertonian, growing up, playing for Everton against Manchester United, when United go to Goodison the whole place is lifted – the fans, they make it more difficult. We know it's going to be a really tough game because, the one thing about Everton is that they work extremely hard. They are a really fit team. You need to keep the ball well and keep possession and try and tie them down. It's a really tough first game even though, over the last few years, Everton haven't really started well in the league."
An intriguing fact about this particular Everton v Manchester United preview and prediction is that Rooney will mark his 10th year as a professional footballer in the English Premier League where he first made his debut for the Toffees at the age of only 16. Thus, one of the better Everton v Man United predictions for tonight is that he will be on the scoresheet and Bet365 offers Rooney to Score at Any Time at 2.33.
But back to the essence of this Everton v United prediction, as Rooney himself pointed out, it won't be an easy game for the Reds, because of how though Everton are by nature, because of their outstanding work ethic, the home factor, and last but not least – the good pieces they have in combination with their team spirit. Jelavic was outstanding for them in the second half of the season scoring 11 goals in just 16 matches, after being bought during the January transfer window.
The Toffees have a solid keeper in Howard, their defense is stable as well formed by Baines, Heitinga, Jagielka and Hibbert. Phil Neville and the tall and hairy Fellaini will form a rock in the middle of the park. Pienar should be the player to create chances of newly acquired Naismith and Jelavic, both tall and strong forwards. These are our Everton v Man United predictions for August 20th in terms of the starting players.
Everton v Manchester United Prediction: A cracking game is about to be played at Goodison Park in the first Monday night fixture of the new season. Most fans and betting experts suggest an easy win for the Red Devils, but we are not so sure that will be the case.