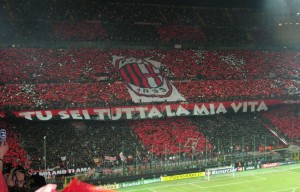 The elimination stage of the UEFA Champions League is continuing this week, and we are laying it all out in this Milan v Barcelona prediction on February 20th, 2013. The game certainly has the makings of a classic, and it can't be any different whenever two of the most successful football clubs in the world go head to head. These two sides are meeting in the Champions League for the third straight year, and while in 2010/11 it was in the group stage, last season they met in the quarter-finals and Barcelona prevailed by 3-1 after a goalless draw at San Siro. Well, given how Barca have been scoring all season long, one of the most certain Champions League predictions for today is that we will see goals in that game.
The most common Milan v Barcelona prediction is of course a win for the Catalans, but from a purely historic stand point, Milan have always given them a hard time, and games at that stage of the competition are never straight forward regardless of which players are fielded on the pitch. On paper, Barca have the far better team and it's almost a certainty that they will eliminate Milan, but it's a two-legged encounter, so the result of the first match will not be decisive. What matters is who goes through after the final whistle that will be blown at Camp Nou on March 12th.
There are plenty of interesting facts surrounding this absolutely best Champions League prediction for today. These two grand clubs have met 15 times in total, with Barca winning six games, four victories for Milan, and four draws. The Catalans are unbeaten in the last seven matches against Milan, whose last win came in the group stage back on 20 October 2004 with Andriy Shevchenko getting the only goal. Currently, Milan have a total of 399 goals to their name in the European Cup so their next would be a very special one. Betting on the Italians to score the first goal here is among the top Milan v Barcelona betting predictions providing an odd of 3.50.
It's kind of strange to see such low odds on Barca to beat Milan as the online bookies like bet365 are offering just 1.50 on them as if the Rossonerri are the last team in the Spanish League. Despite everything, Milan have always played some of their best football in the Champions League and it's never easy to beat them at San Siro. If you are serious about sports betting, you should never write off Milan especially when they are playing on the big stage. Masimilian Allegri made the following interesting comment yesterday: "Milan will definitely play a good game. It annoys me that we are already considered as a sacrificial victim. Unless the regulations change before Wednesday, we will start at 0-0 and my team must be convinced they can get through – otherwise there is no point turning up."
Today's Champions League predictions are based on a number of factors. The available players, current form, last results, traditions, these are just some of the elements that we account for when making the most accurate football betting picks on a daily basis. Focusing on this Milan v Barca prediction, Mario Balotelli is unavailable for selection having played this season in the Champions League for another club (Manchester City). Pazzini has been going through a revival, while El Shaarawy is doubtful but we expect him to make the starting eleven and pair up with the former Inter man. Behind them will be Kevin Prince Boaten who has scored some amazing goals against Barcelona in the previous two seasons. Robinho is expected to come off the bench. Allegri has already announced his back line: Ignazio Abate, Cristián Zapata, Philippe Mexès and Kévin Constant.
Xavi is rated as questionable for tonight's encounter, but we expect him to make it as well. He has completed a record percentage of his 663 passes in the group stage – 92%. Left-back Adriano, however, will miss the first leg after suffering a hamstring injury at the weekend. David Villa has remained in Barcelona following two hospital visits due to a kidney problem last week. Jordi Roura will be replacing Tito Villanova on the bench. Barca have conceded at least one goal in their last nine straight matches, but Messi has netted in 14 La Liga gmaes in a row and now has 301 goals for Barcelona in total.
Milan v Barcelona Prediction: To get our betting pick for this game, register here.