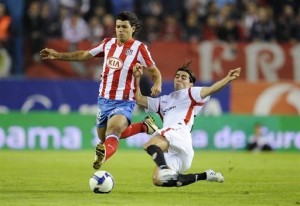 Atletico Madrid goes up against Sevilla in the 2010 Copa Del Rey Final. It's a single match that will decide who gets the title and it's played on a neutral ground – Camp Nou. Just a week after winning their first trophy since 1996, Atletico Madrid can make a double this season by winning the cup tonight. However, this task will surely be a difficult one to accomplish because they will be up against a side that's much better than Fulham.
The good news for Atletico is that they managed to rest their top player during the weekend in the final round of the Spansh Primer as they lost 0:3 at home against Getafe. Aguero and Forlan who are the main players for them didn't make an appearance, so they should be well rested going into the Final.
Sevilla meanwhile qualified for the Champions League after beating Almeria 2:3 away in a game that was extremely difficult. Thus, we both sides have had a positive season although Sevilla can be a bit disappointend by their elimination from the CL by CSKA Moscow. Thus, to make up for it they will have to win a trophy and tonight's match is their last chance of achieving this.
Sevilla have two BIG issues to deal with going into the Copa Del Rey Final. Their leading scorer Luis Fabio will miss the game. So the Andalusians will be their main man in attack and will only be able to rely on Fredi Kanute and perhaps Negredo who is presence on the field is also in doubt. Sevilla also has some problems in defense as Federico Fazio, Fernando Navarro and Ivica Dragutinovic are out too. These are some serious issue for their head coach to deal with. However, Sevilla remain favorites in our books to win the trophy because this is their last chance of salvaging their season.
Sevilla Probable Starting 11:
Palop; Stankevicius, Squillaci, Escude, Adriano; Navas, Renato, Zokora, Capel; Rodri, Kanoute
Atletico Probable Starting 11:
De Gea; Ujfalusi, Perea, Dominguez, Lopez; Reyes, Assuncao, Tiago, Simao; Aguero, Forlan
Copa Del Rey Final Atletico Madrid v Sevilla Prediction: As it with most finals, this game is difficult to predict, but the most likely outcome is a Draw which should lead to Extra Time.

Copa Del Rey Final Atletico Madrid v Sevilla Paid Pick: To get our best and most accurate prediction for this game for just 10$, all you have to do to get it is complete the payment via PayPal and we will instantly email you the info using the address from which the payment was received. If our pick doesn't win, we will send you the money back on the next day. Now that's a Real Win-Win Situation!