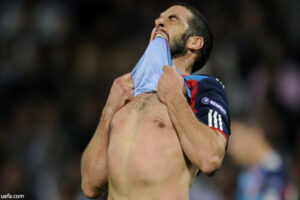 The Champions League is in full swing and we got some really tasty coefficients for tonight's matches. Title holders Inter take on Tottenham in Milano, while Manchester United will be looking to get back on track by brushing off Bursaspor. In France, Lyon face a potential banana slip against Benfica, while Rangers host Valencia.
Lyon v Benfica Prediction, Under 2,5

This will be on of the most interesting matches as both teams like to play attacking football and have some really good individuals. Lyon seem to be getting back to their best as they climbed out of the relegation zone in League 1 with two consecutive wins, powered by Gourguff, Lopez and Bastos. Things are looking extra bright for them in the CL as they have 6 points from the first two matches, having beaten Schalke and Hapoel in Tel Aviv. Now though, they will play against the most dangerous opponent in this group – Benfica.
Benfica have plenty of class players in their roster, from defense to attack. At the back, Benfica rely on Fabio Coentrao and Luisao, while in midfield they are orchestrated by Argentine maestro Pablo Aimar. Up front is where Benfica have a major problem for this game as they will have to cope without their star player Oscar Cardozo who is out injured. That's in fact the reason why we can't see Benfica scoring in this game, so the game shouldn't have more than 2 goals in total, and both of them in Lyon's favor.
Manchester United v Bursaspor Prediction, Under 2,5
There is a lot of tension at Old Trafford lately with all the draws that the has recorded this season, all the wasted points and now things are capped off with Wayne Rooney's publicly announced intention to leave. It seems that Dimitar Berbatov is the only real forward they can rely on this season along with Nani. Chichirito is too young for the fans to have any big expectations from him so early on, while Michael Owen is way passed his prime.
Manchester United will certainly beat Bursaspor as the Turkish champions simply are not up to the CL standards, but the odds for home win here are just too low. The thing is that there is a lot of trouble at the Red Devils' camp right now with Rooney being out of the squad and about to leave, the bad results lately, lack of firepower upfront, and when you combine that with the fact Bursaspor are one of the worst teams in the Champions League, it should result in a low scoring affair with a maximum of 2 goals in it!