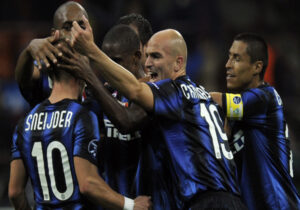 In what certainly is the most interesting betting pick from the Champions League today, we give you the best possible Inter v Tottenham prediction. The favorites in Group A will battle at the Guisepe Meazza tonight in a match that should provide an answer as to which team will top this group and proceed as a seeded club in the last 16. The Italian champions Inter take on a dangerous Tottenham side filled with young and talented players eager to impress at the big stage.
This match is one of the best Champions League betting tips for today as our Inter v Tottenham prediction is for a home win which is offered by online bookies like bwin and bet365 at the odds of 1,70 and that's not bad at all. Tottenham have been seriously improving compared ever since Harry Redknapp took over, especially by their own standards given that they weren't even in the top 6 in England before that. Now they have the chance to prove themselves in Europe and what better possibility to leave a mark than when playing against the reigning European club champions Inter. It's going to be a massive test nonetheless for Londoners.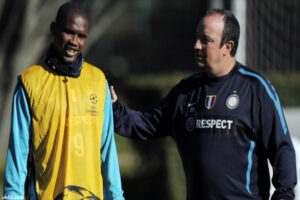 An interesting fact about this Inter v Tottenham prediction is that Rafael Benitez is well familiar with Hotspurs as he faced them plenty of times during his spell as a manager in England in charge of Liverpool. Rafa knows all about Tottenham, their style of play, weak and strong sides and that will be a good advantage for the Italian giants. Another thing everyone who follows world football has noticed is that Samuel Eto'o has re-found his scoring touch and is now leading the way in Europe with 12 goals in just 11 matches, in all competitions thus far.
What's clearly evident is that Rafa Benitez likes to deploy Eto'o further up the field which is exactly where the Cameroonian loves to play. He is a goal poacher and needs to be as close as possible to the box where he does the most of his damage. Mourinho was using him to cover the left flank so he was actually a left winger under the Special One and that certainly hurt his goal scoring ration, but Samuel made a sacrifice for the team and it did pay off. On a number of games, we actually saw him as left back. Take the Barcelona semi-final for example, the second leg, where Eto'o played left midfielder for almost the entire game after the sending off of Thiago Motta.These are all very important considerations in terms of an Inter v Tottenham prediction.
Anyway, under Benitez Eto'o is back at his best and scoring in every match, so one of the best betting predictions for Inter v Tottenham is to bet on Eto'o to Score At Any Time @ 1,90 or to directly Score the First Goal in the Match @ 4,50!
But with Samuel Eto'o turning into the pivotal player in Inter's offense, it seems that another man is getting neglected as a result. We are talking about Diego Milito, the man that led the team last year scoring all the decisive goals, including a brace in the Final at Bernabeu. The official explanation is that Milito is having health issues and is currently not at his best shape, but it does seem that Benitez has made up his mind and wants to rely on a single important man in the center of the attack and that's Eto'o. Either way, Diego Milito won't feature in this game for sure, so a good betting tip is to write him off from any goal scorer picks you might make for this game.
The Spanish coach gave an interesting pre-match interview that's quite relevant to this Inter v Tottenham prediction: "Tottenham have changed a lot since the last time I faced them. They have invested a lot of money and have improved a lot. They are an excellent team with energy, quality and hunger for victory. They will be hard to beat but we will try our best. This team depended on Milito last year and won three titles, so if the same happened with Eto'o this year, I would be very happy."
Of course, in order for us to be completely accurate in our Inter v Tottenham prediction, we have to devote some attention to the Londoners as well. Tottenham are a young and promising team with some top quality players like newly acquired Rafael Van Der Vaart, Luka Modrid, Huddlestone, Lennon, Gareth Bale, Jermain Defoe. However, for this particular clash against Internazionale, the visitors won't be able to rely on the services of Defoe (injured), Van Der Vaart (suspended), along with key defenders Younes Kaboul (hamstring), and Michael Dawson (knee). This are four important absentees for them that certainly makes us favor the Italians here.
Inter v Tottenham Prediction: Inter are the classier side with better players but it certainly won't be easy for them to win against a tricky Hotspur side that can beat just about anyone when they are in form. We expect an open match with loads of scoring chances in it so bet on Over 2,5 and Goal/Goal. In terms of winner, we pick Inter.
To get our top picks everyday, sign up for our 7-days betting pack for just 5$ and we will give you an access password to check our special picks along with Email notification.