The 2011 Champions League Final will be played this Saturday (28th of May), at Wembley, thus we bring you the most accurate Manchester United v Barcelona prediction. An interesting fact is that both teams actually won their first Champions League trophy (previously known as European Cup) at Wembley. United got their first title back in 1968, while Barca reached the top in Europe's premier competition in 1992 with Crruyff's Dream Team led by Stoichkov and Romario.
Man United v Barcelona Prediction – The Best Attack vs The Best Defense
Well, Barcelona seems to have their best generation at this very moment which makes it easy to understand why everyone (including the online betting companies) are favoring them to lift the trophy this season. However, few sides have it easy against the Red Devils, and despite the Spaniards' advantage on paper, we reckon it will be a rather balanced affair. Another interesting fact about this Man United v Barca prediction is that it will be a clash between two opposing styles. While the Catalans have reached that last stage of the competition by playing the most attacking and attractive brand of football, the English outfit has done it by perfecting the exact opposite as it has been their defense that has allowed them to get here. United have conceded just four goals thus far, and that's due to the experience and quality of their back five – Van der Saar, Evra, Ferdinand, Vidic, and Fabio. Van der Saar will be given the chance to end his career at the very highest level in club football – in a Champions League Final against none other than the mighty Barcelona, and no where other than the mythical Wembley stadium. Vidic was just named 2011 Premier League's player of the year, which is a rare honor for a defender, but well deserved at the same time. Ferdinand has proven his qualities over and over again, and he has been in really good form whenever starting in defense despite missing a lot of games this season.
Man United v Barcelona Prediction – The Mass Delusion
People and bookies from all over the world are expecting an easy win for Barcelona in the 2011 CL Final. But who is brave (or stupid) enough to simply rule out Manchester United against any club in the world? The Reds have proven their "die hard" attitude over the years, especially in the last two decades under sir Alex. Point is that there are no and shouldn't be any favorites in this Man United v Barcelona prediction.
The best team in Spain versus the best one in England going head to head will definitely result in a really even affair that could well go into extra time. Bottom line is that when both teams are of such high class, it's best to go after the higher odds where the value is.
Man United v Barcelona Prediction – The Revenge Factor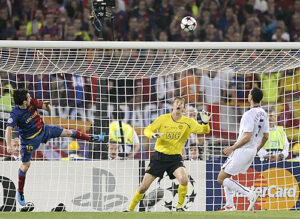 Another important part of this Man Utd versus Barcelona prediction is the revenge factor that will be on the side of the Reds. United lost the CL Final in 2008 against Barcelona as they went down 0-2 despite having one of their best teams in club history with Cristiano Ronaldo, Carloz Tevez and younger Scholes and Giggs. Back then, Manchester were labelled as favorites and they lost, while now it's the exact opposite.
Oddly, Ferguson opted for a more conservative formation in Rome leaving Berbatov and Tevez on the bench, while Rooney was shifted on the left touchlines in complete isolation ultimately making him ineffective, while Ronaldo tried to win the game by himself. We all know how that turned out as Eto'o struck first and then Messi practically froze Van der Saar with a spectacular header despite being the smallest guy on the pitch.
This time around, I am looking forward to seeing a better prepared United team that has learned a harsh lesson and will be additionally motivated by the revenge factor. The Champions League is a tournament of revenges. If you think about it, Milan lost to Liverpool in the Istanbul final in the scandalous 3-0 then 3-3 penalty kick drama. Then just two years later, they got their chance for footballing revenge and won the Final in Athens 2-1. Bayern lost to Manchester United at Nou Camp in 1999 in the last two minutes, but got theirs last season when Olic scored in the last minute to win the first leg 2-1 (after losing 0-1 at the break), and Robben scored a cracker in the return to bring back to reality fans at the Theater of Dreams. The history of this competition is very important when you look for accurate Champions League betting advices and predictions.