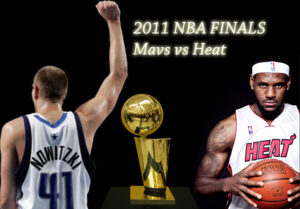 Once again BetOnWins plays the early bird as we take a look into the future predicting what the 2011 NBA Finals would be and who is going to win it. Our 2011 NBA Finals prediction is for a battle between Miami Heat and Dallas Mavericks in what will be a reply of the 2006 Finals, in which Wade almost single handedly turned the series around (from 0-2 to 4-2) and gave his club their first title. That loss left Nowitzki with a bitter taste in his mouth and now he will be looking to get his long awaited revenge and earn himself a Championship ring. A title would certainly fit Nowitzki and Jason Kidd as they are living legends in this league, but without a title to show for as their careers enter the final stages.
So in this Dallas vs Miami NBA prediction, we take a closer look into the factors that will determine the eventual winner. Who is going to become the 2011 NBA Champion? That's the main quesiton in the world of basketball right now and we know the answer. But we take into the journey of our NBA betting analysis, so that you can see it for yourself, before it actually happens.
The two players that have been the most outstanding during these entire Playoffs have been LeBron James and Dirk Nowitzki. The German has been simply "Ridirkulous" in the postseason thus far. The performances that he produced against LA and then in the Western Finals against Oklahoma were simply legendary! And that's definitely not an overstatement. He is rarely missing a shot from the field. He is like an absolute robot at the free throw line shooting at nearly 95% (the guy is 213 cm/7-0 tall) and he has also been 60% from 3-point range. He actually set a record for most free throws scored without a miss in a playoff game with 24 straight in Game 1 in the West Finals. In terms of clutchness, Dirk has produced some absolutely classic plays this postseason, and they will definitely go down into the history books. Those who have watched the series lately know what I am talking about. Here is just a little excerpt for you (Dallas v OKC Game 1, 48 points from 12/15 FG, and 24/24 FT):
You can see a real evolution in Dirk's game right now. He displays real determination and absolute believes in his capabilities in the final minutes of the game when he has been closing out games for Dallas in Jordan-type of style. He is still hurting from the final that the Mavs lost to Miami in 2006 and now destiny is giving him a chance to get his revenge and erase those bad memories. Such a moment is a huge motivational factor for a player of Nowitzki's magnitude and definitely plays a major part when you are looking for the most accurate NBA Finals prediction and betting pick.
A major component in this 2011 NBA Finals preview is the comparisson of the depth of these two teams. Dallas certainly have a huge advantage as they got a more complete roster. Caron Butler that you see on the image above (on the left) has been out form almost the entire season while he was scoring 20 ponts per game at the start, and yet Dallas have still managed to replace him more than adequately "on the fly" which just goes out to show how deep they are. Stevenson (despite all his theatrics) has played an important giving them range by scoring 3-pointers.
Tyson Chandler is playing the best basketball of his career. He is an absolute monster under the glass, and it will be really difficult for the much softer Chris Bosh to contain him. One of my Heat v Dallas predictions is that Chandler will have a huge advantage over Bosh in rebounding the ball and his offensive rebounds will produce invaluable second chance points for his team.
Jason Terry is always in the running for the league's "Best Sixth Man", and he has been playing with an edge in these playoffs. What stands out so far was his 9 from 10 3-pointing shooting. He came from the bench to destroy the reigning champions from LA in none other than Game 4 all thanks his deadly shots from distance. Watch the video bellow for a recap of that performance:
On top of all that, the Mavs can also rely on the emerging J.J. Barrea who has been nothing short of stunnig in the postseason so far. Who would have thought that a player who wasn't even drafted in the NBA can produce games like that. Whenever he steps on the court for Dallas replacing Kidd, he is giving them a real boost by speeding up the game, and also hititng shots from the perimiter. But the way he dribbles the ball and penetrates is his real strength and thanks to his speed on the court, he becomes practically impossible to stop without a hard faul.
Shaun Marion has also accepted his new function of being more of a role player as he is in a later stage of his career. He does bring in a lot of professionalism and effort. He might not produce that much highlight plays but he is a more effective unit in Rick Carlaill's system. And the Mavs coach can also rely on the shooting touch of Peja Stojakovic, so all in all, the Mavs are capable of providing strong support to Dirk Nowitzki, and we have not even discussed Jason Kidd yet!
Continue to Next Page (2nd Part, with the actual betting pick)