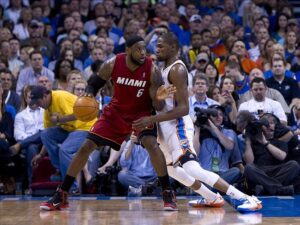 It's time for the absolute best Miami Heat at OKC Thunder prediction for Game 1 one of the 2012 NBA Finals. This the Final that we had already anticipated and correctly predicted for you in one of our NBA betting analysis and picks about a month ago (click here to see it). It's what the game of basketball and real fans worldwide deserved. Currently, the game's two best players against each other, and the two teams in the entire NBA that had a consistent season and definitely the most spectacular styles in their respective conferences. It does not get any better than this, so sit tight and get ready for the most accurate 2012 NBA Finals prediction.
It's no coincidence that these two teams made it to the 2012 NBA Finals. Derick Rose's injury caused Chicago their chances, and so the path was cleared for Miami to get back into the Finals. OKC on the other hand had to go through a real Hollywood type of script as they defeated the top three teams in the West. The three teams that have won 10 of the last 13 NBA Championships – Lakers, Spurs and Mavericks. But Miami's road was not easy either as they had to go through a dangerous and unpredictable Knicks team, a tough, skilled and deep Pacers team, all the way to a 7 game series against the most experienced and well schooled side in the NBA in the likes of Boston Celtics.
But now that they have made their way, it's time for our Heat at Thunder prediction for Game 1. Both teams do have their weaknesses and it will all go down to whoever takes advantage. OKC have the habit of getting careless with the ball, and committing way too many turnovers. Miami on the other hand has a bad tendency of becoming too reliant on James and Wade and start doing nothing but isolation sets with the two stars taking turns.
Of course, in order for us to accurately predict the outcome of Game 1 between Miami and OKC, we have to examine how deep each team is. That's always important when you want to make or get the best NBA betting predictions for a given day. The status of each roster is just as crucial. In this particular case, fans and coaches get the luxury of having fully fit squads to choose from.
Chris Bosh is now back for Miami and he practically won Game 7 for them hitting a season-high 3 three pointers, just from 4 attempts. He scored 19 points and grabbed 8 rebounds off the bench. It looks like he has not missed a beat, yet one of the popular Heat at Thunder predictions for Game 1 is that Bosh will start on the bench. That would be a weird thing for Spoelstra to do, although we cannot be sure of his current health level, and whether or not the ex-Raptor is fit enough to play like 40 minutes.
But in relation to this 2012 NBA Finals prediction, we have to outline one very interesting fact – James and Durant are huge friends off the court. Most of you know that during the lockout they organised a number of charity basketball games where they went all-in against each other, each exploding in certain games to about 40-50 points. Here is what LeBron had to say about his summer training with KD: "I envisioned (this) every day we worked out. I understood what his passion was. I understood what his drive was. We pushed each other every single day. That four day span, we called it hell week. He was upset about the (loss to) Dallas, and I was as well. I envisioned us getting to this point."
So LeBron's vision did come true, and now we are about to witness one of the best NBA Finals ever. Two extremely strong teams filled with individual star talent going for the ultimate prize in basketball. There are a lot of question marks about this Miami Heat at OKC Thunder prediction for Game 1 on June 12th. Like, who will the X-Factor turn out to be? Will Westbrook keep his composure and have a good game shooting the ball, or will he get into a slump? How will Wade turn out to be? Vintage Wade or the tired looking and flopping Wade?
2012 NBA Finals, Game 1 – Miami Heat at OKC Thunder Prediction: OKC Thunder to Win 1.45