The 2013 NBA Playoffs started on April 20th, and according to our 2013 NBA Playoffs predictions, you should get ready for a New York Knicks versus Miami Heat Eastern Conference Finals. Of course, the Heat are favorite to win it all, so it's only right that they make their way to the Finals in the East. The big question is who will be up against them, and our money is on the Knickerbockers. The other main candidates are the Indiana Pacers.
40-year Title Drought For New York Basketball
The very best NBA betting predictions have always been based on a combination of statistics, trends, player matchups, history, player availability, and last but not least – betting experience. It has been exactly four decades since the Knicks last won an NBA Championship. This club belonging to the most popular city in the whole world has only won two NBA titles – the first one in 1970, the second (last) in 1973. That just does not look right for New York. Basketball is so appreciated in this city and fans in the Madison Square Garden really understand the game. All NBA players love to perform there, which probably backfires against the Knicks for that exact same reason. But anyway, New Yorkers deserve better, the Knicks deserve better. Another stunning stat is that the Knicks have not won a Playoff series in over a decade. According to our 2013 NBA Playoffs predictions, that particular run is bound to end this season, but we predict they will go even further – at least to the Eastern Finals.
Experience Is Key In The Playoffs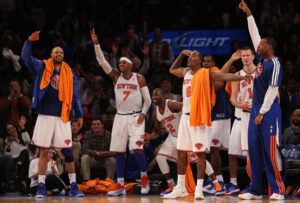 This Knicks team might not be a "team for the ages" but it's certainly one comprised of seriously aged players, but that could be their biggest advantage come playoff time. This year, New York set two records in that particular age category. They became the oldest ever team, with an average of over 32 years. And, they introduced NBA's oldest rookie – Pablo Prigioni who made his debut at the age of 36! However, in the NBA playoffs, the game slows down, and it's not about the pace anymore, as much as it is about strong nerves, experience, character, guts, and pure basketball IQ.

Having all these older players translates into a great deal of experience. Jason Kidd has been through it all at the age of 40. Kurt Thomas is 40 something as well. Kenyon Martin is 36 years old. Melo, Chanlder and Felton are close to 30 as well. But as we said already, that's not a bad thing to have in the postseason.
Melo Is On Fire
Making the most accurate NBA predictions on a daily basis is a regularity for us, because we know this game inside out. Carmelo Anthony is having the best season of his whole career. One of our top NBA predictions for 2013 is that he will finish as the leading scorer in the regular season, and finally end Durant's run of consecutive scoring titles. Melo is simply unstoppable. He can give it to you in a number of ways. He can post defenders, tap in his own misses, score from mid-range, score from three-point range. He is probably the best scorer in the game. The ease with which he releases the ball from beyond the arc is lovely to watch and it just shows how strong he is physically. He is a like a bull.
Never Out Of A Game – The Triple Threat
Given how deadly the Knicks, are from three-point territory, you can never write them off during a game, regardless of how many points they could be down. Jason Kidd has transformed into an excellent shooter from long distance. He is actually second in the history of the NBA for most three points made. Camerlo Anthony has improved his shot from beyond the arc this year. JR Smith is also capable of knocking down threes, Shumpert, and of course, Steve Novak. The Novakaine has been somewhat quite lately but he can get hot in an instant. All in all, that's a very important factor when making NBA Playoff predictions and the Knicks are the best team in the league at that. During the 2012-13 regular season, they averaged a league best of 10.3 three pointers made per game shooting at a percentage of 36.7.
Amare Coming Back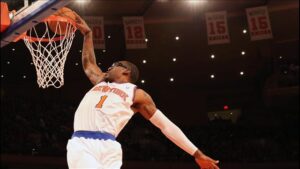 Injuries are a major factor that should be accounted for when making the most accurate NBA betting predictions and analysis. This season has been stamped with serious injuries to some of the game's best players. Derick Rose has been out for over a year know with an ACL injury. There is still a possibility that he could return in the 2013 NBA playoffs, although that seems like a very bold prediction to make. Kobe Bryant suffered a thorn achilles in the 81st game of the regular season, so he will be out for 6-9 months. Russel Westbrook needs surgery to repair cartilage in his right knee after Game 2 against the Rockets, and he will be out for up to six weeks, potentially could come back in the NBA Finals, but it does not look likely that the Thunder will make it that far without him. Well, the Knicks have good news on that front as Amare Stoudemire should be back for the second round, and that will be a major boost for their title aspirations. He will form a strong second unit for the team featuring JR Smith, and the impressive and ever-improving Copeland.