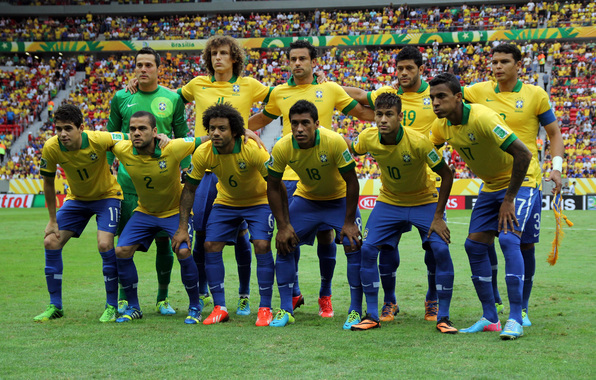 On Thursday, June 12, 2014, the entire world will have their eyes set at the Arena Corinthians in Sao Paolo, and so we bring you the most accurate World Cup prediction for Brazil vs Croatia. The host nation have never lost the opening game of a World Cup, but with players like Modric, Rakitic, Olic, and Mandzukic, Croatia's chances of pulling out an upset cannot be underestimated. Luiz Felipe Scolari won this tournament for Brazil in 2002, but he and his players are under enormous pressure to deliver once again.
The Arena de Sao Paulo was selected to host the Opening Match of Brazil 2014 and five other games will be played there, including one semi final. Its capacity is 61,606 and on a funny note one of the safest World Cup predictions is that there won't be any empty seats for this game. Obviously the crowd will be cheering for Selecao and that home factor will be a serious advantage for them. Football is what unites the Brazilian nation that is so drastically divided on an economic/social level.
As one would expect, the online betting companies such as bet365.com are clearly favoring the hosts in this Brazil v Croatia prediction. A Croatian sensation here is not expected as the draw is rated at the odds of 5.00 (decimal) while an away win is seen as practically impossible with odds at 11.00! And yet, in football just like in any other sport, surprises are indeed rare but not impossible. The players in red and blue are quite skillful and will certainly pose a serious challenge for anyone in this World Cup.
Of course the Brazilians are among the big favorites to lift the trophy. They did win the Confederations Cup, but that's not a trophy that a football nation like them is aiming at. Their ultimate goal is to bring joy to their people on home soil, and history has shown that the hosts have won one third (six) of all World Cup tournaments (18) thus far. Still, when you look at that Brazil side, one can't help but sense that they are simply not on the level of their previous winning teams like the one in 1994 that featured greats like Romario, Bebeto, Dunga and Cafu, or the winners of the 2002 WC that had Ronaldo, Rivaldo, Ronaldinho, Roberto Carlso, and Juninho just to name a few. The 2014 version seems somewhat soft and one of our top World Cup predictions is that they will crumble under the pressure of the heavy expectations of the local fans.
Powered by the dangerous forwards up front that are supported by some of the most creative midfielders in European football, one of the most interesting predictions for the 2014 World Cup is that Croatia will be one of the surprises of the tournament. In attack "The Checkers" have Ivica Olica from Wolfsburg, Mandjukic from Bayern (suspended for this game), Jelavic from Everton, and of course the native Brazilian Eduardo. These are all top class players. In midfield they have one of Real Madrid's best performing players this season Luka Modric. He will be the one pulling the strings and making those killer passes. Sammir, a top midfielder, is another Brazilian-born player, so this Brazil v Croatia prediction is full of interesting tales. Ivan Rakitic led Sevilla to the Europa League title, and Mattea Kovacic from Inter is another young and creative talent in the middle of the park.
Brazil v Croatia Prediction: Both Teams to Score @ 2.62