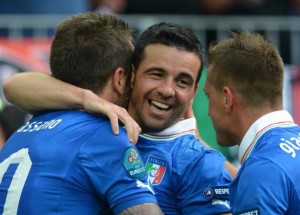 The qualifiers for the 2014 World Cup in Brazil are getting underway this Friday, so we have prepared for you the most accurate football predictions for September 7th. The game will be reviewing here is Bulgaria v Italy, at the "Vasil Levski Stadium" in Sofia. The other teams in that Group B are Denmark, the Czech Republic, and the heavy outsiders Armenia and Malta. The runners up from the Euro championship this last summer will take on a rather weak Bulgarian side, but will they be able to prevail? We answer that question in today's most accurate football prediction featuring Bulgaria vs Italy.
Italy's coach Cessare Prandelli made some interesting changes to the squad bringing in Pazzini who scored a hattric in his starting debut for AC Milan. Napoli's striker Lorenzo Insigne who impressed at the U-21 level for Italy has also been called up for this pair of fixtures against Bulgaria and then at home against Malta.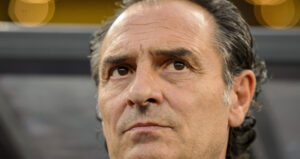 Obviously, the squads are of crucial importance whenever you want to get the most accurate soccer picks, so we present you the list of players called up by Cezare Prandelli and Liuboslav Penev, respectively:
Italy squad:
Goalkeepers: Buffon (Juventus), De Sanctis (Napoli), Sirigu (Paris Saint-Germain), Viviano (Fiorentina);
Defenders: Astori (Cagliari), Balzaretti (Roma), Barzagli (Juventus), Bonucci (Juventus), Cassani (Fiorentina), Maggio (Napoli), Ogbonna (Torino);
Midfielders: De Rossi (Roma), Diamanti (Bologna), Giaccherini (Juventus), Marchisio (Juventus), Nocerino (Milan), Pirlo (Juventus), Poli (Sampdoria), Verratti (Paris Saint-Germain);
Forwards: Borini (Liverpool), Destro (Roma), Giovinco (Juventus), Insigne (Napoli), Osvaldo (Roma), Pazzini (Milan)
Bulgaria squad: A group of anonymous players with not even a single one playing at one the top ten clubs in Europe, and that's gonna be a real factor for this Bulgaria v Italy prediction. Berbatov retired from the national side a couple of years ago, and just confirmed yesterday that he wouldn't bе coming back. Stylian Petrov, captain of Aston Villa and the national side, is fighting blood leukemia. Though times for the Bulgarian football.
During the 2012 Euros, Italy displayed a nice style sitting at the back and making fast counter attacks with a lot of one-touch passes. Very fluid football it must be said. However, one of our football predictions for September 7th, is that Italy will have to control the ball more against Bulgaria, and attack gradually. Nonetheless, they do have all the qualities to play whatever style they need against this particular opponent.
Bulgaria v Italy Prediction: Italy has too much class here. The runners up from the last Euros have two really in-form players in attack in Osvaldo who has been superb for Roma and Giovinco, both scoring two goals in the opening two Seria A fixtures. Bulgaria are going through a real crisis, serious lack of talent, and a draw would probably be a miracle here.
Betting Verdict: Italy to Win @ 1.80