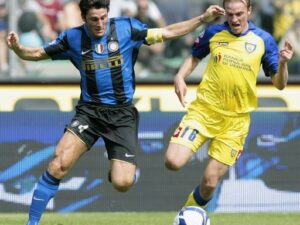 BetOnWins.com aims at providing you with the best posisble Chievo v Inter prediction. The European Champions are going through a real crisis both in terms of injuries and results on the football pitch. Of course, the two are related but there is also no denying that Benitez's Inter have looked like a shadow of what they used to be under Jose Mourinho. The team is no longer as stable and tranquile as it used to be and they are also unable to hang on to leads in the final minutes of matches.
Rafa Benitez is one of the most controversial coaches in the world of football and for every person to say that he is great at what he does, there will be at least 2 others saying that he is highly overrated and lies on his Istanbul comeback his entire career. Well,l from what Inter have been doing so far in this new 2010/11 season, the latter seem to be on point. Benitez has made the Nerazzuri unstable and shaky in ever department. And even though president Moratti has re-itarated his trust in the Spaniard, the Italian press is already coming up with potential replacement candidates, such as Mancini, Hidink, Cappelo, and even Roy Hodgson. The petrol taycon said in an interview yesterday that "Even if we (Inter) were to lose in Verona, there would still be plenty of time for the coach".
A key component of this Chievo v Inter prediction is the staggering amount of injuries at the Nerazzuri camp. Some experts are already blaming Benitez's training methods for the long casualty list which includes goalkeeper Julio Cesar, right back Maicon, central defender Samuel, left back Chivu, holding midfielders Thiago Motta and Suley Muntari, Brazilian winger Coutinho (out for 2 months), and striker Diego Milito! That's Inter's entire starting defense, midfield duo, and main men in attack.
Meanwhile, Dutch playmaker Wesley Sneijder is suffering from anemia having completely exhausted his physical powers during the Treble run and the road to the World Cup Final in South Affrica. These are huge squad problems for the Milanese giants that will certainly make the win a ver hard task to achieve. That's indeed the essence of our Chievo v Inter prediction.
An interesting fact regarding this match is that the hosts from Veron have failed to score in their last 4 Seria A outings! That's a total of 360 minutes of football without scoring a single goal and it's a amazing runt that we feel will end tonight. The last time Chievo scored was on 24th of October in their 2-1 win against Cesena at home. They scored the game winner in the 90th minute in that particular match.
Chievo v Inter Prediction: Based on the Law of Averages, Chievo are bound to finally break their scoring drought and Inter is without their starting goalkeeper and 3 of the 4 defenders that are normally in front of him with full backs Maicon and Chivu missing out along with Walter Sameul who is out for the rest of the season. Meanwhile, Inter should find the back of the net at least once since they failed to score in their last match against Milan and have the league's leading scorer Eto'o in their attack.