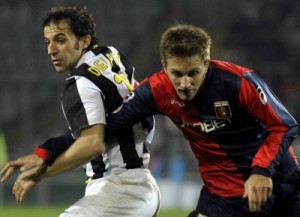 Giving an accurate Genoa vs Juventus prediction is not an easy task by any standards, because up against one another go two really good teams with plenty of skilfull players although at least on paper the Old Lady is regarded as favorite for the win. After drawing two games in a row, Juve will be desperate to grab all three points from this one in order to get back among the top three in Italy. Milan won their game against Fiorentina opening a 9 point cap on Juve and Inter so now these two clubs will have to catch up with Berlusconi's squad led by a rejuvanted Zlatan Ibrahimovic.
Genoa are 9th placed with 5 wins, 2 draws and 5 losses. They have a good group of players but the names that make the biggest impression and impact on the field are defenders Rafinha, Ranocchia, Criscito, and Dainelli. The midfield is ran by Miguel Veloso, Milanetto, Mesto and Kharja while in attack is the aging Luca Toni and Destro. Genoa are missing some important players in the likes of Jankovic, Sculli, Palladino (former Juve player) and Palacio (brought from Boca Juniors) all out. Given that Genoa are on a tight budget, they don't have a long bench and thus whenever the injuries mount up it gets really hard for them to match against the big guns in Italy. So these absentees play a crucial role in this Genoa v Juve prediction.
Another pivotal role in our Genoa vs Juventus prediction is the motivation level. The Bianconeri are challenging for the title even though they don't publically announce it, and as such, they simply can't afford to fail behind AC Milan with 9 points. They've had 5 draws in their last 7 matches in all competitions and at least according to the Law of Averages, it's highly unlikely that the Grifoni and Bianconeri will split the points here. Our Seria A betting pick here goes for Juve to bag all 3 points.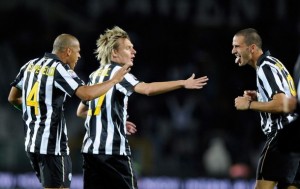 Del Neri welcomes back Milos Krasic into the starting lineup after the Serb served a suspension for his simulative penalty dive against Bologna (a penalty was called and eventually missed by Iaquinta ending 0-0). Krasic has been one of their brightest players this season and definitely looks like a good investment. He will be roaring to go from the opening signal. Mota is also available for selection again along with reserve goalkeeper Maninger.
The players that will make the difference for Juve are Chiellini, Felipe Melo, Sissoko, Grosso, Marchisio, Iaquinta, Del Piero, Aquilani, Quagliarella and Krasic. The Torin giant simply has way too many top act footballers to let the win slip away here. They are the better team compared to Genoa who are missing some important players. That's why we favor the visitors in our Genoa v Juve prediction.
In terms of goals, this game should be Goal/Goal. Both teams are likely to score because Genoa have had 5 straight games in which only one of the two teams scored.
Genoa v Juventus Prediction: We favor Juve to win this game and the odds are good at 2,75 at bet365! Both Teams should get on the scoresheet so Goal/Goal is also a good bet here.