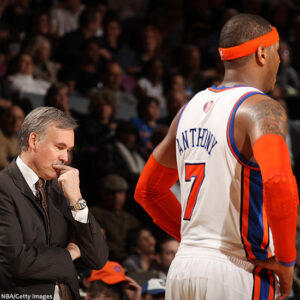 The Knicks take on the Celtics at the MSG tonight trying to avoid going down 3-0 in the series as that would be too big of a hole to dig themselves out of. Lead mainly by Carmelo in the first two games, the New Yorkers had a big shot of winning both of them. However, they were denied in the last few seconds due to instances of bad luck, bad shots, or simply the Celtics being more expierenced in such tense Playoff situations and are basically better at closing games. Either way, the Knicks know how vital tonight's game is in terms of their chances of going through. Plus, basketball fans in the Big Apple have not seen their favorite team win in the postseason for 7 years now!
The story of Game 1 was Billups getting injured down the stretch, Ray Allen hitting a trademark 3-pointer with 17 seconds left to give Celtics the lead in the game and ultimately the win as  Melo missed New York's chance to tie or win. Then in Game 2, Billups was missing from start to finish, while Amare who had a superb opener also got himself injured, so the Knicks were left with just Anthony to rely on and he delivered. Boy did he deliver! Athony tied his Playoff career best by scoring 42 points to go along with game-high 17 rebounds (!), and made some huge plays late in the fourth to put his team in a position to win. Excellent effort from D'Antoni's men and yet the result was just as dissapointing – 93:96 for Boston. It was none other than Kevin Garnett who hit a shot with 12 seconds on the clock, when everyone was expecting Pierce or Allen to get the ball. It was a smart move by Doc Rivers. Rondo was the man for them as he had his postseason best scoring output ever with 30 points, and 7 assist to go along with them.
Doc Rivers made an interesting commend at the end of the game: "We won the game. That's all we got out of that. They had no Stoudemire, no [Chauncey] Billups … They played hard. We were lucky to win."
These 2011 NBA Playoffs are really interesting to bet on, and our betting picks and tips for tonight revolve around a Knicks win, as you could have probably figured out by now. Of course, this particular Celtics at Knicks 2011 Playoffs prediction has got to take into account the available players, or actually the unavailable ones. Shaq is definitely out for the C's, while Billups has been confirmed to also miss this one as he is still recovering fromt the injury he picked up in the opener.
The good news for the home team going into this Knicks v Celtics prediction is that Amare is expected to feature. He missed the second half ot Game 2 with back spasms and didn't even practice yesterday, but he will certainly play in this one. And yet, from a purely punter's perspective, it would appear logical to think that Amare probably won't be at his absolute best tonight due to his physical condition right now. And that's a huge factor cocerning this Knicks vs Celtics prediction.
Another really interesting factor (or lack of being one) in these series has been Landry Fields. The rookie who has been impressive all season long turning into one of the most crucial Knicks players has been missing completely in the first two games. He didn't score a single point in G1, and then only had 4 points in the next. He played just 5 minutes of the second half in both cases. Maybe the pressure of the Playoffs is too much for the freshman and probably that's why coach D'Antoni is limiting his minutes. However, Game 3 between the Knicks and Celtics is at the Madison Square Garden, a much more familar territory for Fields, so I expect to see him getting more playing time and having a bigger impact on the game.
Former Celtic Bill Walker had a terrible performance last time around, as he ended up missing all of his 11 attempts, and yet the Knicks still lost with just 3 points. Walker should also be among the Knickerbockers who should be feeling more comfortable with his shot tonight, and that's an important moment when you want an accurate NBA betting pick for the 22nd of April, 2011.
Knicks v Celtics Prediction: After Game 2, Melo was definitely dissapointed with the results, but held his head up and said: "The Celtics didn't do anything special, they won two games on their home court. Now it's our turn to do the same thing." The guys is right. Even though New York played without Chauncey and Amare, they still had a big chance of stealing one on the road, so now in front of their own fans, on their own court, they should be able to get their first Playoff win in a long time.