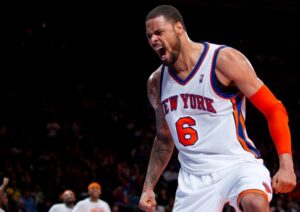 One of the best NBA picks for today comes from this Knicks at Hawks prediction. It's the early Sunday tip off with the Knickerbockers looking to secure their 7th place, while the Hawks are playihg for home-court advantage should they reach the second round. It has been a crazy season for Knicks' fans who have been up and down all the time. They got Amare back on Friday, but surprisingly lost to the low Cleveland Cavs who were without Kyrie Irving. Woodson described that performance as totally "unacceptable" and we expect his players to do a lot more today.
Motivation is always a crucial factor when making the most accurate NBA predictions, and in examining that, we have to outline that both teams have secured a Playoff spot. The Knicks are currently 7th with identical record with Philly (33-30), and are only in front thanks to the direct matchup, but a defeat here combined with a couple of wins for the 76ers could push them back to the 8th seed and throw them against Chicago in the 1st round. Now, it's hard to say whether Miami is a better option for them, but it does look like New York wants to hold on to their current place in the Easter Conference standings. Whether they put it all on the floor today is the decisive factor in this Knicks vs Hawks prediction and NBA betting pick.
If the Knicks play hard and with a sense of urgency, they definitely have a good chance of getting the W at the Philips Arena. Good news for them is the return of Stat. Amare scored 15 points in just 27 minutes of playing time in Cleveland to go along with 5 rebounds and 3 blocks. He certainly looked good out there, and that is important for this Knicks at Hawks prediction: "As the game went on, I felt more and more comfortable. I felt my rhythm coming back a lot faster. It's that muscle memory. Once you get going again, it just comes back to you. I felt great."
For the sake of providing the best NBA analysis and predictions, we have to take the Hawks into perspective too. Their only notable absentee is an All-Star player that nears a return. Of course we are referring to Al Horford who is currently making a push to get back right in the Playoffs next week after missing the entire season. Other than that, Larry Drew has a fully-fit squad to choose from, with some quality players in it. Josh Smith and Joe Johnson are All-Star type players, Jeff Teague has stepped his game ever since last year's Playoffs. Kirk Heinrich is finally playing for them. Marvin Williams is there, but the real story for the Hawks this season has been the game of Ivan Johnson. This guy is a beast around the basket, can easily score 20 points and grab 10 boards. And don't forget that a guy named Tracy McGrady is coming off the bench for them as well.
Bottom line is that if the Knicks bring their A-game to town and play hard as coach Mike Woodson would want them to, then they certainly have a good chance of beating Atlanta. The odds aren't in their favor, which is actually great news as the prices for a Knicks win on Money Line are at about 2.30!
Betting Verdict: Knicks to Win @ 2.30