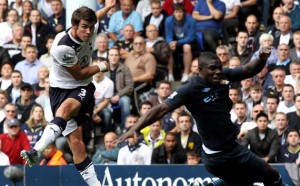 Today's best football betting parlay from BetOnWins.com features our premier selection of five different fixtures from four different leagues. 22nd of January has turned out to be a great day for the English Premier League as the top four teams lock horns. City entertain Spurs at the Etihad stadium, while Arsenal will be looking for a revenge against Man United after their 8-2 defeat at Old Trafford in the first half of the season. Meanwhile, Barcelona have another tricky opponent to deal with as they travel to Malaga.
Manchester City v Tottenham Prediction
Man City are on a remarkable run of 10 straight wins at home. We predict this run will end today, as Tottenham will take at least (and most likely) a point here. City will be without captain and best defender Vincent Kompany, while Yaya Toure is in Africa to play for his country at the AFCON. These are two huge absentees for Mancini as they give his side a serious physical advantage with their strong presence in practically every area of the pitch. Meanwhile, Tottenham will be without Adebayor due to the terms of his loan deal, making him unable to play against the club that owns his rights (City). Defoe will take his place in the starting lineup.
This game will provide a serious hint as to Tottenham are a genuine title contender. They will definitely earn their rights with a win here, but that's never easy against the likes of Silva, Aguero, Nasri, Dzeko, Balotelli, and the rest of the stars in City's ultra expensive squad. Spurs will also be looking to make amends for the 1-5 defeat they suffered against this opponent in their first meeting of the season. It's interesting to note that City have not registered a double against the Spurs since the 1991/92 season.
Bottom line is that in terms of the end result, we predict a draw which can be backed up at 3.75 at bet365. They should be able to score at least once here, as they are on a club-record run of scoring at least once in their last 20 games. In other words, they've managed to score in all their EPL matches this season. City are also guaranteed to score as they will be playing at home, and we all know about their potential up front.
Betting Verdict: Draw @ 3.75 (Top Value)
Goal/Goal @ 1.70 (Most Accurate)

Arsenal v Man United Prediction

Arsenal will be really pumped up for this one. They will be desperate to get a revenge for their embarrassing defeat at OT earlier this season (8-2). Plus, they have not earned much points lately as they let half-time leads slip away against both Fulham and Swansea. They will get at least a point against United here. United have their difficulties in defense where the Vidic is sorely missed. Ferdinand is way pass his best, while Johny Evans is always a never-wrecking choice for Sir Alex, due to his dangerous interventions, slow acceleration and speed.
Betting Verdict: Goal/Goal @ 1.60

Hamburger v Dortmund Prediction

One of the biggest derbies in the Bundesliga as champions Borussia Dortmund travel to Hamburg. Hamburger have had a really good preparation for this second half of the season as their newly appointed coach and Bayern Munich legend Thorsten Fink is applying some really interesting training methods and workouts. Both goalkeepers for Borussia are major doubts and that should set up for Over 2.5 goals in this one. Guererro and Petric will certainly be able to find the back of the net, while Dortmund are always dangerous so Goal/Goal is another good betting tip here. Gotze and Santana are also out for Dortmund. We give Hamburger the advantage here.
Betting Verdict: Goal/Goal @ 1.72
There is no stopping this Barcelona side, and perhaps the only question here is whether Malaga will be able to score a goal against them. We do believe they will be able to do so, which should set up for a Goal/Goal type of bet. Malaga failed to score in their last two Primer matches at home, so a third one will form a major drought for a club that has invested so heavily on the transfer market last summer, bringing in experienced and high quality players such as Santi and Nistelrooy. Barcelona could be feeling a bit of tiredness as they defeated Real Madrid last Wednesday, while Malaga had all seven days to recover, so that's an advantage for them.
Betting Verdict: Goal/Goal @ 1.83

Inter v Lazio Prediction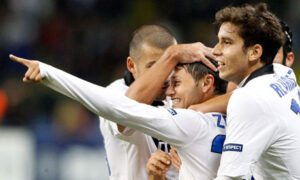 Traditionally, Inter have always struggled against Lazio, and we expect more of the same here. Lazio are one of the pleasant surprises in the Calcio this year, as the evergreen Klose formed up a nice duo in attack with another prolific goalscorer known all across Europe – Djibril Cisse. Inter have now recorded 7 straight wins under Ranieri! That's just too much, and we feel their run will end tonight. A draw looks like the most valuable betting prediction here, as bet365 offers 3.85 on that bet. Both teams will score as well.
Betting Verdict: Draw @ 3.85 (Best Value)
Goal/Goal @ 1.90 (Most Accurate)