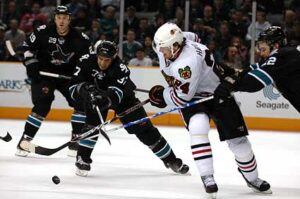 It's Game 3 of the Western Conference Finals in the 2010 Stanley Cup Playoffs, and Chicago Blackhawks have a commanding 2-0 lead in this best of seven series. What's really incredible about these West Finals is that the Hawks managed to grab 2 away wins and now they have two games at home, so they have a real chance of closing the series in front of their own fans. But will that happen? We give the answer in our Chicago Blackhawks v San Jose Sharks Game 3 Prediction.
If the Hawks win at home tonight, they will take a 3-0 advantage and put the Sharks on their heels for the remainder of the series. On the contrary, if San Jose wins they will be right back in this contest with a chance to even things up on Sunday in Game 4. So it's a decisive game of hockey.
What has to be said is that the Hawks won the first two games with a lot of luck on their side as all the little things have been going their way. For example, the deflections off of the sticks have been turning into unstoppable goals while their long shots have been somehow finding their way into the net.
Chicago Blackhawks v San Jose Sharks Game 3 Prediction: BetOnWins has the winning betting pick for this game but Information Costs Money! Get our pick at your email for just 10 USD! If you feel uncertain about our accuracy, just check our "Today's Picks" category to see how we've done so far. All you have to do is the hit the Pay Now button bellow and proceed with the PayPal payment process. Once done, you will get our pick in an hour. And we are so certain we can pick the winner for you that if our prediction is wrong, we will send you your money back on the next day! Try Us, you got nothing to lose with BetOnWins!