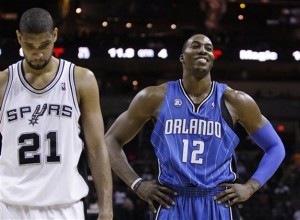 Duncan versus Howard, Parker versus Nelson, Ginobili versus Carter, with match ups like that the safest Magic at Spurs prediction is that it's going to be a real showdown in Texas. These are two of the strongest teams in the NBA and are the current leaders in the Eastern and Western conference respectively. The Spurs are off to their best start in club history having recorded 11 wins and just 1 defeat so far. They also have the best record in the NBA right now, 11-1. However, good things always come to an end.
Giving an accurate Orlando Magic at San Antonio Spurs prediction is a difficult task because both teams are among the most balanced ones in the league, long benches, filled with quality players on every position. So what's it going to be? Will Orlando be able to work their magic and stop the red-hot Spurs? We certainly believe they are capable.
There are a lot of interesting facts about this Magic at Spurs prediction. It's basically a battle of two opposing styles. Spurs, despite their aging roster, like to play at a fast pace scoring 20.0 PPG on the fast break. Orlando meanwhile are the best defensive team in the NBA allowing the lowest number of fast break points – just 8.1 per game. So what will happen tonight is that Orlando will slow down the game and cut down San Antonio's fast break opportunities. If they live up to their average of allowing just 8 points on the fast break, then Magic will practically erease 12 of Spurs' 108 points per game average (2nd in the league after Lakers).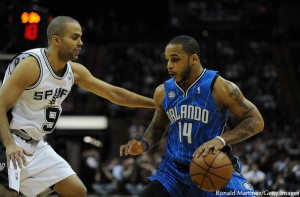 Another accurate Magic at Spurs prediction is that the pace of the game will be dictated by Tony Parker and Jameer Nelson. These two are among the best point guards in the NBA and look in top form right now. Parker has been leading the way for his team in MVP-style scoring 19.1 points and dishing 7.7 APG, while shooting at a remarkable rate of 54% from the field. These are some great stats by the Frenchman but there is a lot of off-court drama surrounding him at the moment with his current divorvce with Eva Longoria hitting the public. Up against him will be JAmeer Nelson who is getting back to his All-Star form wth 15.3 points and 7.3 assists per game.
The battle on the benches will be just as closely contested as the one between the starters. Both teams rely on some excellent backup players to carry the load at the end of the quarters. Van Gundy has formed a very capable second unit that consists of Bass, Pietrus, Redick, Duhon and Gortat. Greg Popovich relies on Hill who is a very good SF/SG, the old McDyess who is practically a no-factor in offense, Brazilian sensation Tiago Splitter and Neal who is a decent 3-point shooter. Still though, it's unlikely that Splitter will have a second career night as he did in last game against Cleveland (career high 18 points and 5 rebounds) and thus Magic have an advantage when it comes to the bench players and that's a very important factor when you want to get the best NBA picks and an accurate Magic at Spurs prediction.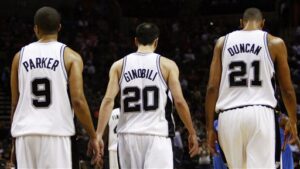 Spurs have an aging core. Their nucklues consists of players well in their 30s. Duncan is no longer the player he once was. The days when he was scoring 30-40 points a game and grabbing 15-20 rebounds seem long gone. This season, he was limited to under 10 points in 3 games which had never happened in a single season in his career and we are just the start of this one. He is no longer the factor he once was and in the last game against Cleveland for example, he had just 8 points. And when we consider who he will be playing against tonight – the best center in the NBA right now Dwight Howard, it does look like another strong reason to favor the visitors in this Orlando Magic at San Antonio Spurs prediction. Duncan versus Howard is the past meeting the future.
Magic at Spurs Prediction: It's about time for someone to beat the Spurs and stop their 10-game winnig streak and few teams are better equipped for this challenge than Orlando. Magic are one of the best road teams in the league, play the best defense in the league that concedes the fewest number of fast break points and has a strong advantage in the center position in this match with Howard going against the 34-year old Duncan.