Today's best Premiership betting pick comes from the most accurate Swansea v Man United prediction that you can possibly get for the game on December 23rd. United are leading the way in the Premership, while Swansea have once again shaped up as one of the positive surprises of the season, since not many expected them to perform so well after losing their head coach Brandon Rodgers and Scott Sinclair who was one of their most creative players last season. Fact of the matter is that it would be difficult for most people to make an accurate Swansea v Man United prediction. Obviously, most fans and bookies expect a win for the visitors, but we are not so sure things will be so easy for Sir Alex Ferguson's men.
Swansea have surprised a lot of people this season with their free flowing attacking style of play. They've had periods in certain games where they control the ball just like Barcelona do. The game at the Emirates in the 0:2 win against Arsenal about a month ago is the perfect example for that, especially if you consider how Michu's first goal came – after about 30 passes between Swansea players before finally putting the impressive forward one-on-one against the keeper. Part of our Swansea v United prediction for December 23rd is that the Reds will have their hands full, despite their higher class in all areas of the pitch.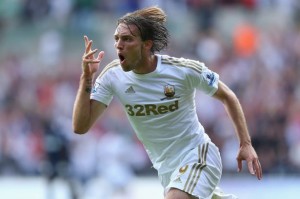 Swans boss Michael Laudrup has been implementing a really nice-to-watch system and his team is on the attack for the most part of games. They try to play good football and have been obtaining some decent results. Yes, they are in the middle of the table right now, but they are well above the relegation zone and a surprise win here could see them surpass three teams in the league standings. United were beaten by Norwich last month, so it's not like they are immune to bad performances. They are looking strong at the moment, but anything can happen in the course of a 90-minute football match. Of course, the Red Devils are looking good at the moment having won five games in a row.
A piece of good news for the home side in today's most accurate football prediction is that Michel Vorm is expected to return after an eight-week absence with a groin injury. The Dutch keeper was arguably among the three best keepers in the league last year, and there is no reason why fans should not expect him to continue his great performances between the sticks. Swansea's most expensive summer signing – Pablo Hernandez – is also expected to return for this game, after missing several weeks with an injury.
For United, Vidic is continuing his super surprising return and experts expect him to start today's match. The only bad news for Ferguson about this Swansea v Manchester prediction for December 23rd is that Rafael remains out and Kagawa is not yet ready to return either.
Betting Verdict: Draw @ 4.00