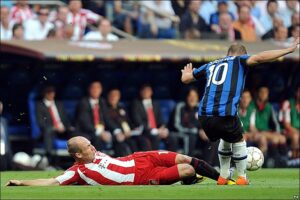 The best betting pick for today comes from the Champions League as we bring you the most accurate Inter v Bayern Munich prediction. The group matches are over and it's now do or die time for all the teams involved in the world's best club football competition. It's going to be a massive game at theGiuseppe Meazza as the Germans get their chance to avenge the defeat they suffered in the CL Final last summer in Madrid. You know the Germans, they have a tendency of not giving up and never holding back. They will be desperate going against the team that brought them so much pain last season.
There are a lot of different aspects to this Inter v Bayern prediction. First there is the revenge factor which will be seriously working in favor of the Germans. Then comes the battle between the Seria A and Bundesliga in terms of the club coeficient in the European tournaments. Basically, with its victory in the 2010 CL Final, Inter were able to retain Seria's A dominance over the Bundesliga at least for another year and thus the first four Italian teams got involved in the competition this seaons at the expense of the Bundesliga. However, Sampdoria threw their chance away as they lost the Playoff to Werder in Extra Time, and now with AC Milan on the bring of elimination to Tottenham, and Roma almost certainly out (lost 2-3 in the first leg to Shaktar), the Bundesliga is taking an advantage this season and it will be the league to bring in four teams in the Champions Leage next season, while Seria A will have their quota cut down to three. So that's very important about this Inter v Bayern prediction, because the Italians can still hope on their most successful team in recent years to save the day once again, should they win both legs and go on to have another long run in the competition.
But our Inter v Bayern analysis diggs even deeper. The current state of both teams is what we feel is the most important factor right now. In that's another area where the most successful German side also has an advantage. Inter will be without the man who gave them the win in the 2010 Final – Diego Milito is out and he was the one who scored both goals. Leonardo will have to solve his "code" without the Argentine and he can't rely on argubly the team's best player in recent matches – Pazzini who is unavailable for the whole tournament as he already took part in it this season with another team (Sampdoria).
So Lenoardo will have a huge problem in the attacking department, where he can only rely on Samuel Eto'o. Pandev has not been exactly impressive this season, and it seems that the only other decent option is Phillipe Coutinho, however the Brazilian is too young and has absolutely no experience in such big games. On top of all that, he has been out for two months with an injury and is not at his best.
Meanwhile, the situation looks much brighter at Van Gaal's camp. Bayern's form has steadily been improving in recent weeks. Mario Gomez has found his scoring touch once again. But of course the biggest news is the return of both Robben and Ribery. The two speedy and lively wingers are without a doubt the team's best players and will be looking to score some crucial away gomes at the Giuseppe Meazza tonight. They provide a huge lift for the Germans in this Inter v Bayern prediction. Then of course they also got the young Muller who had a great World Cup and is also set to be among the best players on the pitch tonight.
Inter v Bayern Anlysis – The Squads
Inter's Squad: 1 Julio Cesar, 12 Luca Castellazzi, 21 Paolo Orlandoni; 1 Julio Cesar, 12 Luca Castellazzi, 21 Paolo Orlandoni; 5 Dejan Stankovic, 8 Thiago Motta, 10 Wesley Sneijder, 14 Houssine Kharja, 17 MacDonald Mariga, 19 Esteban Cambiasso, 20 Joel Obi, 29 Philippe Coutinho; 9 Samuel Eto'o, 27 Goran Pandev.
Bayern's Squad: Thomas Kraft, Rouven Sattelmaier, Holger Badstuber, Diego Contento, Philipp Lahm, Daniel Van Buyten, Breno, Franck Ribéry, Hamit Altıntop, Hamit Altıntop, Andreas Ottl, Danijel Pranjić, Luiz Gustavo, Bastian Schweinsteiger, Toni Kroos, Anatoliy Tymoshchuk, Thomas Müller, Mario Gomez
Inter v Bayern Prediction: As always, BetOnWins.com brings you the most accurate betting picks and we say that Inter won't win this match for sure. They have won 8 straight games at home in the Champions League and this run will surely end tonight. Bayern will be eager to make amends for last season's heart-breaking defeat in the Final, they are in good form right, finally got Robben and Ribery back in the starting lineup, while the Italians have problems in the attacking department being without Milito and Pazzini.