Today's Premier League preview is all about the big one – the most accurate Liverpool v Man United prediction. As Steven Gerrard put it – it's the best league in the world and that's the biggest derby in it, since these are two most successful clubs in terms of total titles won. But on this day, September 22nd, there is another serious factor that's going to reflect on our Liverpool v United prediction and that's the Hillsborough tragedy. It's going to be a massive game from not only footballing perspective, but also in terms of the history between these two cities and footballing clubs in particular.
Few people know that Steven Gerrard lost his cousin, Jon-Paul Gilhooley in the Hillsborough disaster. For the Reds captain, this game is bound to be something special. Gerrard vividly remembers the day of 15 April 1989 where 96 fans lost their live in the FA Cup semifinal game between Liverpool and Nottingham Forest. That's a key element to one of our best Premier League predictions for today. He and United captain Nemanja Vidic will release 96 balloons before kick off. The atmosphere at Anfield on September 23rd, 2012 is going to be something to remember.
In front of the Guardian newspaper, the Liverpool captain admitted: "I've stood on the Kop many times when it was terraced. I've been involved at games like that [Hillsborough]. It could have been me. It could have been anyone. We're talking about a disaster that puts everything else into perspective."
Gerrard continued: "A win would give the team huge belief and confidence moving forward. I don't think this team is far away from clicking. We've shown signs we are a good team and it'll come sooner rather than later, that's what I believe.It's two good sides, I think United are going to be favourites because of the way they've started in the league and we're yet to win a game."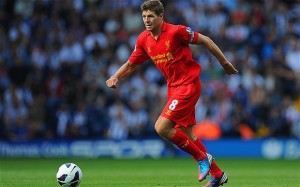 Steve is going to take this game really personal and that's why reckon it's worth backing him up to score a goal or two. The odds on him netting the opener are spectacular at 10.00, and you know he is the one taking penalties and free kicks. Gerrard to Score at Any Time is another one of our top football predictions for today offered by bookies at 3.75.
The great moment about this particular Liverpool v Man United prediction is that history serves as its foundation. As you might have heard, a week ago, it was officially made public that the English police fabricated the facts surrounding the Hillsborough disaster, in order to shift the blame from them to "some drunk fans that went in without tickets." The level at which corruption has spread into all areas of our lives, including sports, and from 23 years ago is just terrible. The stadium that was chosen to host the game (in Sheffield) was not even checked if it covered the safety standards, which it did not. Over the past 23 years, a lot of voices were being heard that it was the police that should have taken the blame, and not the fans. That led to the assembly of the Hillsborough Independent Panel in 2010, to "look into the context, circumstances and aftermath of the disaster."
Here is what the Hillsborough Independent Panel concluded and announced publicly on September 14, 2012: "The Panel last week (September 12) concluded that Liverpool fans were not responsible for the death of 96 people during the FA Cup semi-final match against Nottingham Forest. It also concluded that South Yorkshire police tried to conceal the truth and divert the blame of the disaster to the victims and edited 116 of 164 police statements that were unfavourable to them."
Of course, in our desire to bring you the very best soccer predictions on a daily basis, we have to examine the purely footballing aspect of the game itself. Liverpool's miseries have continued this season even harder, as it's the first time in over 30 years when they have not had a single win in league's opening four rounds. They could have not picked a tougher opponent however. In light of our Liverpool v Manchester United prediction, one can't argue that the Red Devils have the better squad not just on paper, but as also indicated by the current record.