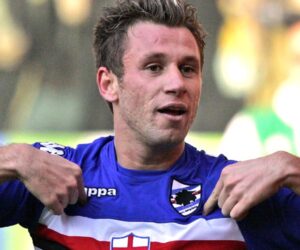 According to our accurate Sampdoria v Werder Bremen prediction, the Italians still have a glimpse of hope of qualifying for the Champions league despite the negative outcome from the first leg. Samp learned a hard lesson about European football in Werder when they paid the price for some poor refereeing, missed chances and an 18 minute black out period in the second half.
What happens in the return leg is what you will understand from our Sampdoria v Werder Bremen prediction. Samp conceded 3 goals in an 18-minute period in the second half, and only a last minute header by Pazzini is keeping them alive right now. They have to overturn a 3-1 deficit at home where they will be playing in front of a sold-out Luigi Ferraris stadium in front of exactly 36, 536 fans.
An important factor for this Sampdoria v Werder Bremen prediction on the 24th of August is the way that both teams played in the first leg in Germany. Despite the impressive result, Bremen weren't that much superior to Samp, as the Italians had some good chances to score. With the result still 0-0, Pazzini hit the crossbar and had another chance to score but his header went just wide. Then came Palombo's individual mistake in the 2nd half which lead to the first goal, only to be followed by a non-existing penalty converted by Frings and a harsh red card on Stefano Lucchini, which brought down Samp to 10 men and practically decided the outcome. If you examine Werder's three goals, the first was a wonder goal after an individual mistake, the second was a harsh penalty while the third was a deflection.
Truth is that if Sampdoria play more aggressively at home they have a great chance of winning this fixture, even if they don't get a result good enough to go through. They need a 2-0 win to qualify, while a 3-1 result sends the game into Extra Time. The away goal rule is valid here which is crucial in this Samp v Werder prediction and betting guide. What the Italians need is to be solid at the back, because if they concede an away goal the game will practically be over. Thus their style will be patient without exposing themselves in defense and relying on the counter attacks up front where they got Cassano and Pazzini.
Werder Bremen are experiencing a big drop in form as they lost their last game against Hoffenhaim with 4-1! They looked terrible in that game especially in defense which should raise a lot of concerns in their camp. Their management replaced Mesut Ozil with Brazilian Wesley but he is not eligible for this Champions League tie. However, the biggest problem for Schaaf in this Champions League playoff are the absentees of three regular starters – defender Naldo, midfielder Hunt and forward Almeyda. Werder make this trip to Northern Italy with just 14 outfield players. Keep that in mind when considering your betting picks for Samp v Werder on the 24th of August.
National pride is also under thread in this Sampdoria v Werder Bremen prediction because the Bundesliga is closing up on the Seria A in the UEFA club ranking and will beat them for the 4th spot in the 2012-13 season should Werder go through.
Sampdoria v Werder Bremen, Starting 11s
Sampdoria 11: Curci; Stankevicius, Lucchini, Gastaldello, Ziegler; Semioli, Tissone, Palombo, Mannini; Cassano; Pazzini
Werder 11: Wiese; Fritz, Mertesacker, Pasanen, Boenisch; Bargfrede, Frings, Hunt, Marin; Almeida, Pizarro
Sampdoria v Werder Bremen Prediction: Samp are usually a much better team when playing at their Luigi Ferraris stadium and we expect them to win this game. The odd for them is 2.10 and that's our pick. Major betting tips for this game are the three key misses for Werder which should make the job easier for the Italians.
Bet On Sampdoria to Win at 2,10