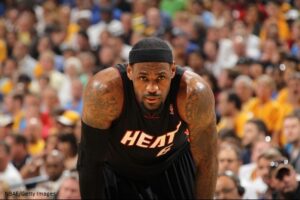 It's Game 6 of the Eastern Conference semifinals featuring Heat at Pacers, with the hosts being on the brink of elimination. Miami leads the series 3-2 right now, after being down 1-2, so they only need one more to advance. But the Pacers are a resiliant bunch and with the backs against the wall, they will be looking to go all out in front of their own fans. So who is going to be? We have the answer for you in this Heat at Pacers Game 6 prediction.
Haslem Out For The Heat
The first major factor about this NBA pick is the absence of Udonis Haslem. He went hard on Hansbrough in the last game, and his flgrant 1 faul was "upgaded" to 2, resulting in automatic suspension for the next game. It has been a real battle between those two teams so far, a dog fight if you wish. Danny Granger has been doing his part to spark all that aggression on the flor, with him constantly getting into the grills of LeBron and Wade, looking like he is about to fight them.
| | |
| --- | --- |
| | And after Tylor Hansbrough went hard on Wade to the point where we saw blood coming out of his face, UD40 decided to return the favor and did that harsh faul. Haslem was a big key to Heat winning the last two games scoring 24 points in them. He stepped up big in the absence of Bosh, but now both are out. |
Pacers Looking To Dominate the Paint
Indiana have had the size advantage ever since the beginning of these series, but now with both Bosh and Haslem out for the Heat, their advantage in that area should become even stronger. It's only now that most Heat fans realize how important Chris Bosh is to their team. He is their biggest presence under the rim, and his ability to score from mid-range helps their half court game, and he is also averaging about a double-double every game. He went out and Pacers took the next game in Miami. Then, they won again in Indi to take a 2-1 lead. But in Game 4, it was Udonis Haslem picking up the slag and scored 12 huge points, 8 of them in the 3rd quarter without even missing, and Lebron fairly labelled him as their MVP on that night. He is able to do some of the things that Bosh does, cause he can shoot well, he is agressive and gets rebounds.
Without the inside presence of Bosha and UD40, the Heat will have to rely heavily on Joel Anthony, who is a solid defender but basically a no-factor on offense. That will hurt them and unless LeBron and D-Wade produce another stunnig performance and score about 40 points each, it's hard to see the Heat being so dominant as in the previous two encounters.
Heat at Pacers Game 6 Prediction: We expect another grind-out battle between those two teams. Hard defense, hard fouls, a lot of pressure, which should lead to a low scoring game, Under 185 points. In terms of the end result, we like Indiana's chances of forcing a Game 7 in Miami.
Betting Verdict: Indiana Pacers to Win @ 2.40