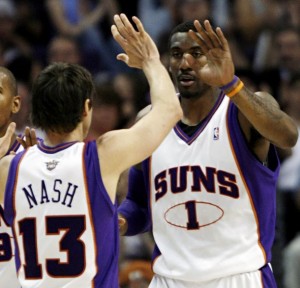 The Phoenix Suns take on  LA Lakers in Game 3 in Arizona tonight as they will be looking for their first victory in these Western Conference Finals and potentially get back into the series. It's a crucial game for both teams, but it's perhaps a bit more important for the Suns, because if they lose they will go down 3-0 and no team in the history of NBA Playoffs has managed to overcome such a deficit in the best of 7 series.
So the Suns will be treating this game as a make or break contest thus one of our NBA predictions for this game is to see their lineup full of energy and motivation. However, Kobe Bryant and Co will not be feeling any sympathies for their opponents and according to them, Games 1 and 2 are history and they start from scratch all over again in Game 3. Jordan Farmar described the situation as the following: "As far as we're concerned, Games 1 and 2 are history. We can't live off of that between now and Sunday night. It's about the next step. And every game is a new challenge."
And if the Lakers do play at their best, then the value in Game 3 is definitely on them as online bookies offer odds of over 2.00 for Lakers on money line. But still, Suns should be able to play better than in the first two games and the home crowd is also a big factor in all NBA predictions as usual. Chanin Frye is the player who has disappointed the most in these Western Finals as he is just 1-13 from the field in the first two games. Frye is also not doing his best under the basket, and yet Alvin Gentry keeps on having faith in him and keeps on playing him. Frye is missing shots like crazy but at their home arena he should be able to shoot the ball a bit better which will give the Suns an advantage.
Here is the official NBA Game 3 Lookahead:

Phoenix Suns v LA Lakers Game 3 Prediction: Bet On Suns To Win! The Suns will shine tonight energized by their home crowd and will bring the intrigue back in the Western Finals.
Phoenix Suns vs LA Lakers Bet On Suns To Win Game 3 @ 1,83 On Money Line