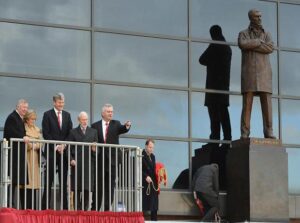 An interesting round in the English Premier League is coming up today with United looking to take the top spot at least for 24 hours with a home win against the struggling QPR, while Rafa Benitez will make his debut as Chelsea manager against none other than Manchester City. Finally, Rangers' management fired Mark Hughes. The latest rumor is that Harry Redknapp will be the man to take over, but that will not happen at least until next week, as Harry would not like to make his debut in charge of such a struggling outfit at Old Trafford.
So what makes this Man United v QPR prediction one of the most interesting football betting picks for today? As it can been seen from the picture above, Sir Alex Ferguson had his statue unveiled yesterday. It certain that the famous Scots man deserve this gesture, although they could have waited for him to retire. Plus, the statue does not quite resemble him, at least in our opinion. But back to our football prediction for today, the interesting stat facts are that United have not had a draw in the Premier League so far this season, while QPR are yet to win a single game!
It's quite unlikely that QPR will get their first win at the Theater of Dreams, but can they at least manage a point here? Wayne Rooney will make his return to the lineup after missing the team's last two games – both losses against Norwich and Galatasaray respectively. Together with Van Persie up front, Juilo Cesar (QPR's goalkeeper) will certainly have a busy day at the office.
Here is a part of Rooney's interview for the club's official website going into this game: "Obviously last week [at Norwich] was a massive disappointment for us. After losing that one, this QPR game couldn't have come quickly enough. We're looking to get back out there in the league and try and get the three points. If we can get the three points, that will take us to the top again. It might only be for 24 hours but it's always great to be there. QPR last season made it difficult for us. They went down to ten men early on and got players behind the ball and made it difficult. I'm sure it will be the same this season. They haven't got a manager at the moment but I'm sure whoever does take over from Mark Hughes will get them organised to play that way."
Man United v QPR Prediction: To get our actual betting pick for today, along with the rest of our betting selections, register here.