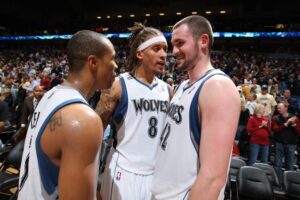 San Antonio Spurs have been making headlines in the NBA since the start of this new 2010/11 season having set a franchise-best 12-1 start with 10 wins in a row turning them into the hottest team in the league. They are second in the league in scoring average with 108 PPG (Lakers are 1st), and 1st in the league in 3-point percentage hitting over 43% of all shots behind the arch. But such amazing runs always come to an end and one point or another. Up against the Spurs tonight will be a young and hungry Wolves team that features a reborn Michael Beasly in combo with mister "30-30" Kevin Love (had 30+ points and 30+ rebounds in a single game this season).
Online betting companies are favoring the Spurs here but we feel a surprise might happen. The odds on Wolves to beat them on Money Line are definitely worth it – 3,7 at bet365. PinnacleSports have it avaailble at 4,00. So the odds on the T-Wolves are definitely worth a try and what's also interesting is that they have suffered 12 straight losses against San Atonio. That's another big reason why we think the Spurs can finally lose tonight. 13 is an fatal number and it's never easy to beat a given opponent (no matter how good or bad they are) 13 times in a row.
Darko Milicic who was the 2-nd pick in the 2002 NBA Draft is now looking like he is finally finding his true identity on the court. He is now on a back to back effort of 20+ points and if the Wolves get that kind of production from him tonight then they will be in a very good position to pull off the surprise here.
Spurs at Wolves Prediction: SAS have won 10 games in a row and 12 straight against the Wolves. Such serious runs eventually end and coincidentally both of them are set to end tonight.