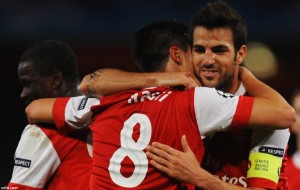 An accurate Manchester City v Asenal is what fans from allover the world are looking for right now and that's quite normal considering how big this game is and how even these sides are. Arsenal will be eager for revenge against City as they lost this fixture last season with 4-2 and what was even more frustrating for the Gunners' fans was that their former hero Adebayor scored the opener and ran over the entire pitch just to celebrate in front of them.
These are just some of the aspects that make up for such a hard-to-give Man City v Arsenal prediction. Both sides though have excellent attacking capabilities and that should result in Goal/Goal which bookies offer at about 1,80! Carloz Tevez has been scoring like crazy in recent weeks and it's hard to see Arsenal's shaky defense with all their goalkeeping issues and without Vermalen successfully stopping the Argentinian. A good betting tip for City vs Arsenal is Tevez to Score at Any Time @ 2,50!
A piece of good news for Mancini is that his protege Mario Balotelli is finally available to play, although doctors have only allowed him about 30 minutes of action at most, so we might see the controversial Italian/Ghanaian in the second half. City's other big signing – Lazio's left back Kolarov is still unavailable.
The visitors from London have some boosts in their squad prior to this derby with Fabregas returning to full-match fitness, full-back Bacary Sagna making a return to the starting lineup, and Theo Walcott also being listed as a potential starter. Jack Wilkshere starts serving a 3-match ban, while Van Persie remains a long term absentee.
The players involved in this game are the key to an accurate Manchester City v Arsenal prediction. The hosts are lead in attack by the trio Tevez, Adebayor, and Silva who is getting close to his best. Wenger can rely on Cesc combining in midfield with Nasri to produce the through pass for Arshavin and Chamakh. Frankly, anything can happen in this game but we favor the visitors from London.
Manchester City v Arsenal Prediction: Bet On Arsenal to get their revenge for Adebayor and finally win a big game in England.