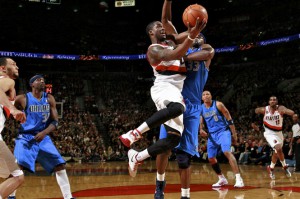 It's the crucial Game 5 of the Blazers v Mavericks first-round Playoff series. The game will be played in Dallas where the hosts are favored to win. However, given the way they blew a 23-point lead in the fourth quarter of the previous match, nothing is certain when it comes to Blazers v Mavs predictions anymore. The Mavericks franchise has a long history of doing quite well in the regular season only to fail completely in the Playoffs when it matters most. From the way things have been shaping up thus far, it does appear that this negative trend for them is about to continue.
A huge part of this Blazers at Mavs prediction is the psychological momentum, which has definitely swung in favor of the Portland blazers as result of their astonishing comeback in Game 4. Dallas took a 20+ point lead in the fourth quarter, and were already seeing themselves taking a 3-1 lead to home, where they could have just eliminated their opponent. However, led by Brandon Roy, the Blazers achieved the impossible and thanks to his amazing plays in the last two minutes of the game, they won and now the series are tied at 2-2. It was a finish to remember, and in case you have not seen it, I would suggest that you take a look at the clip bellow:

Dirk Nowitzki confirmed that by saying the following: "Frustration is definitely at a high level," Nowitzki said. "There is a huge difference from being up 3-1 and 2-2. This is definitely up there with the most frustrating losses." And on top of all that, it's not like the Mavs are a young and upcoming team that's filled with energy. Their core consists of players in their 30s, and such deep Playoff series are the last thing they want. When you combine that with the tiredness that has been accumulated as a result of the long season, the deep roster that Portland has will certainly cause them even more troubles.
Jason Kidd was also quite disappointed with the defeat and said: "This is one of the toughest losses I've ever been involved in. But we can still win the series, and that's where our focus has to be. We have to stay together and get home and come out Monday with the same focus and intensity as we did today. Then we just have to finish." You can certainly feel how upset the Mavericks' star players are and that's defintely
An interesting postseason stat about the Blazers franchise is that they have not won a Playoff series since the year 2000. It has been a long drought of quite painful 11 years for basketball fans in Oregon. Perhaps it's about time for that to change and that plays a role in our Blazers at Mavs Prediction. The Blazers have one of the better rosters in the entire NBA as they have some pretty good starters and a well balanced bench. Plus, they got a rejuvenated Brandon Roy to further improve their chances of winning.
Blazers at Mavs Game 5 Prediction: The home side has won all contests in this series thus far and we expect this trend to end tonight. The Blazers certainly have the players' skill set to pull this off with some great individuals such as Gerald Wallace, Marcus Camby, Lamarcus Aldrdidge, Brandon Roy, Rudy Fernandez, Andre Miller and Batum just to name a few. Therefore, the value is definitely on the away win this ball game.