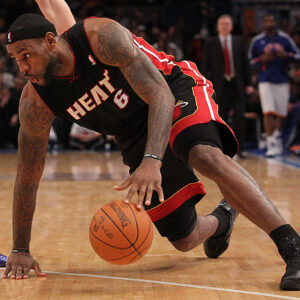 One of the most highly anticipated games in their entire NBA calendar takes places on Christmas as the Miami Heat take a trip to Hollywood to play the Lakers in LA. There is no need to get you pumped up about this particular Heat at Lakers prediction and although players might be saying that it's just another ball game and that it won't decide the title or anything, we all know it hardly gets any better or bigger than this.Unless you are talking about those two teams going head to head in the 2011 NBA Finals. But there is still a long way to go until mid June.
So back to our Miami Heat at LA Lakers prediction on the the 25th of December. That's what you would expect from an NBA Christmas special – the biggest game of the regular season and you can bet that millions of viewers all over the world will be glued to their TV screens. Lakers are indeed the defending NBA Champion, while the Heat are tipped as the prime candidate to steal their crown this season.
| | |
| --- | --- |
| This Heat at Lakers clash will be like a measuring stick that will show how close Miami actually are to the big guns in the league. It's going to be really interesting to see how Lebron and Wade go up against Kobe and Gasol. That's actually the real match up in this game. These two pairs will decide the outcome and according to the signs right now, Miami are in a slightly better position to win. | |
Lakers In a Rough Period
First off, Lakers are looking a bit hesitant right now. They might have a decent record thus far having won 21 out 30, but what has to be taken into account here is that only 5 all these matches have been against teams with winning record (above 0.500). And that doesn't speak good for the Lakers. Last time around they were shocked at the Staples Center by none other than the Bucks who were also without their leading scorer Brandon Jennings. A few weeks ago, Indiana Pacers pulled off their first win at the Lakers's new building (since 1994 in total). So the Lakers, as great as they are, aren't exactly unbeatable right now.
The Revenge Factor
Last season, it was the Lakers that won that game and it happend thanks to a Kobe Bryant last second 3-pointer to give them a 108-107 win in what was a truly Hollywood style. Real action, real drama, incredible finish, the game had it all, but it definitely brings in a real taste for revenge for Wade. Wade was all alone back then and this time around he is bringing in some good friends in the likes of LeBron and Bosh.

Back on the same day in 2009, LeBron came back victorious from Los Angeles after leading his Caveliers to a win against the Lakers on Christmas night, so that could be a good omen for Miami.

The online bookies are favoring the Lakers here and that's understandable considering they are the NBA Champions right now and are playing at home, coming after a shocking loss against lowly Milwaukee, so now everyone expects them to win. However, the actual betting value is on Miami, no doubt. The Money Line odds for them (just win, no handicap) are 2,50!
Miami Heat at LA Lakers Prediction: Our pick is on Miami to beat the Lakers on Christmas night, because the guys in yellow and purple are looking vulnerable right now giving Wade and Lebron a great chance to spoil the party for home fans.