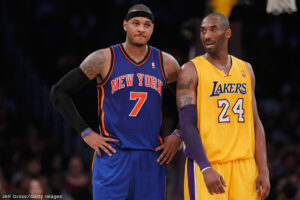 NBA on Christmas Day has been a tradition for over 40 years now, so we present to you the most accurate Knicks at Lakers prediction. This is special contest featuring the league's two leading scorers in Kobe Bryant (29.7 ppg) and Carmelo Anthony (28.0 ppg). Certainly, David Stern and his employees have done a nice job scheduling a total of 5 games to make the Holiday even more special. Every one of these ball games promises to be real spectacle, but perhaps the most interesting seems to be the clash between the high flying Knickerbockers against the Lakers that are on their way up after getting Pau Gasol and Steve Nash back in their starting lineup.
Lakers' miseries this season have been well documented, but in reality, their last game against Golden State Warriors was their first full game in which they had all their top weapons available, and that clearly made a difference as they defeated one of the hottest teams in the NBA right now on their own floor. Nash played 42 minutes in his very first game after being out for about six weeks, and that's a testament for his physical condition. He came up BIG in the final minutes making some decisive plays either scoring or assisting. He will provide the Lakers with another option in the final minutes of close games, as they only had Kobe to lean on till now.
Steve Nash adds another dimension to the Los Angeles Lakers and he is a major factor in our top NBA betting pick on Christmas Day. He did not play in the previous contest between these two teams that took place in the Big Apple about 10 days ago, and logically, the purple and yellow team lost. However, now that both him and Gasol are back, the Knicks will have a much harder task at hand.
Carmelo Anthony has been playing the ball of his live this season and he is in the MVP mix quite rightfully. Yes, he is a high volume shooter but his field goal percentage is actually the highest it has been over the last five seasons as he is currently scoring on 47% of his attempts. Oddly enough, Kobe has the exact same field goal percentage but scores nearly points more per game, perhaps due to him playing nearly 3 minutes on average this season, despite being six years older than Melo. Obviously, one of the keys to this Knicks at Lakers prediction on NBA Christmas Day would be the outcome of this battle between the league's leading scorers.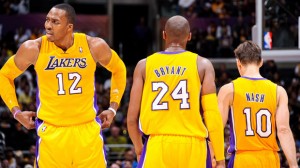 Another interesting point about this particular NBA betting prediction featuring Knicks at Lakers on Christmas Day is the fact that these two teams appear to be on the opposite ends of the spiral of basketball fortune. Knicks seem to be sliding down lately as they lost two games at home last week – against Chicago and Houston. Prior to that, they had lost just one game at the Garden during the entire reign of coach Mike Woodson. On the contrary, LA are starting to the get their identity back. It was a great win on Saturday versus the Warriors in Over Time and it showed just how deadly they can be when everyone is on the same page. And that's just the start for them.
Interestingly, D'Anthoni mentioned that Metta World Peace will no longer be considered as a starter, but he will be on the bench for the start of most games, except for those where the opposition has a high profile player at the 3. Melo would qualify for that, so we expect Metta to be on him from the very first minute. Truth is that World Peace has often been the second-best player on this Lakers team in most of their games this season. His shooting has been better, especially beyond the arc, and he also looks leaner and more fit this year.
Betting Verdict:Lakers to Win @ 1.65