NBA basketball makes a Christmas so much better, and we have prepared for you the very best Thunder at Knicks prediction for December 25th, 2013. Some say that it's cruel to the players to have them "work" on this special day. Others go further saying that it's simply killing the whole Christmas spirit as folks would have five big games to watch, but I would say: "Hey, what's wrong with that? Let's just stop the electricity and have everyone sitting on the table with candles burning and holding hands." NBA on Christmas is great and it just makes the whole holiday even greater, while the players are professionals who get paid a boat load of money for doing what they love. Guys like Carmelo Anthony and Kevin Durant love playing on occasions like that, because when they know the whole globe is watching it motivates them to perform at their absolute best. To put it bluntly, our Thunder at Knicks prediction is for an epic game that will go all the way down the wire.
So far, the season has developed in a quite different way for these two teams. The Knicks, who are the second most expensive team in the league with a total salary of nearly 100 million USD, have under-achieved tremendously. They are far worse than last season. Last year, they had swagger, style and some magic to them. They were moving the ball, hitting threes from everywhere, and they were simply playing with passion. The Garden was starting to turn into a fortress with only a handful of teams managing to escape with a victory, and it would always be something dramatic with just several points difference. This year, the Knicks have been blown by so many teams by opposing teams at MSG, that it's hard to put a list to it. The have lost 18 games in just 27. They have won just four at home losing the other ten.
But it's a fact that they were missing Tyson Chandler for the majority of these games. People could say at that point just how big of a piece he is on their roster. He is their defensive anchor, an experience player with an NBA championship to his name and a loud voice on the court. Without him, opposing teams were killing New York in the paint, whether it was on the dribble drive or on the glass. So him being back for a week now, and starting to get into shape, that's a major factor in the most accurate OKC v Knicks prediction for NBA Christmas.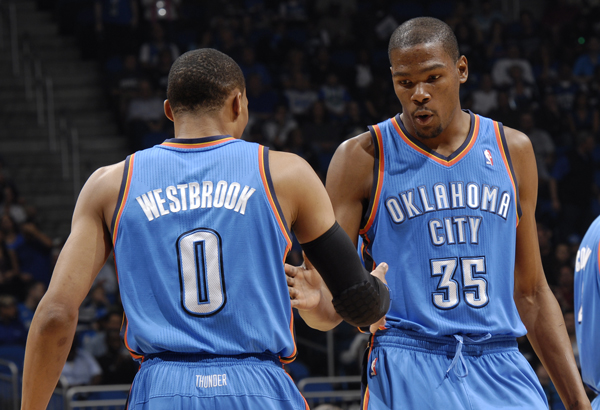 A big question mark going into this NBA Christmas prediction is the status of Melo. He rolled his ankle yesterday, in the convincing win at Orlando. However, we do believe he is going to make it, because he is a big time player and would never want to miss a game like that: "Hopefully, I'll be there. … It's Christmas in the Garden. I don't want to miss that game. I don't know, I'm hard-headed sometimes when it comes to that. But I've got two days."
The Thunder are getting stronger by the day. It seems the move to trade Harden, in order to preserve a solid core for future years is starting to pay dividends now. Guys like Ibaka, Reggie Jackson, Adams, and Lamb have improved seriously and now the team looks really deep and solid. It's pretty much a certain NBA prediction that Westbrook and Durant will each score over 25 points in that game. They are players that would be pumped to play at the Garden on Christmas.
Thunder at Knicks Prediction: To get our betting pick for this game, register here.