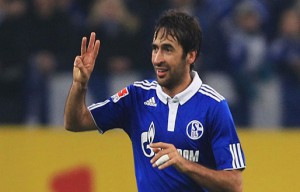 The 2011 Champions League semis are getting underway tonight as we bring you the most accurate Schalke v Manchester United prediction. It's another case of the everlasting Germany vs England battle on the football pitch, and even though online betting companies and experts alike are favoring the Red Devils to progress, we suspect it won't be such a straight forward affair for them. Schalke have proven to be the dark horse in this year's premier European competition as they demolished the defending champs Inter with an aggregate scoreline of 7-3. No team that has pulled off such an astonishing pair of performances can be underestimated. Especially when they have a rejuvenated Raul Gonzales in their ranks.
Raul has been the most iconic player in the history of the Champions League and he is actually the player with most goals in the competition having found the back of the net on no less than 71 occasions. According to his personal stats, he scores a goal in every two CL games, and given the fact that he did not score in Schalke's second leg match versus Inter, a goal from the Spaniard looks like a sure thing for tonight. Hence, one of the best Schalke v Man Utd predictions is for Raul To Score At Any Time which is offered by Bet365 at the very likable odds of 3,20! Raul to score the 1st or last goal of the match is available at 7.50, which is not bad either.
Sir Alex Ferguson already warned fans and players about the difficulties that their German opponents will present: "Schalke never looked like losing against Inter. That's quite a credit to them when you consider the experienced side they were up against. They were in control and made a good impression on me when I was here. "Germans have a self-determination. It's reflected in how the German people approach all sports. There's similarity with the English and Scottish!"
Fergie also went on to admit that he was on the brink of signing Raul last summer. However, he decided against that transfer as he already had Rooney, Berbatov, Owen and Hernandez fighting for a place in the attack. Raul has 5 goals to his name in this season's competition and that's we favor him to score in this Schalke v Manchester prediction. Simply put, despite his age of 33, the Spaniard has managed to stay on top of his game. He is deadly with the ball inside the penalty area and certainly has the mentality to shine on the big scene.
In terms of the total number of goals scored in this match, our Under/Over prediction for Schalke vs Man United is for less than 3 goals in the match (under 2,5). Schalke have the best German goalkeeper right now Manuel Neuer making a remarkable season. It would be quite difficult for the visitors to break through him. Meanwhile, the Reds have the best defense in the Champions League thus far, having conceded just 3 goals in 10 matches. Plus, it's the semi-finals of the Champions League and teams will get more defensive from now looking to avoid any unforced errors.
Of course, when someone talks about a Schalke vs Man Utd prediction, most people expect to hear the end result in advance. That's a tricky football betting prediction to make. We expect a close contest that would most likely end in a 1-1 draw, as United's main mission is to get the Away Goal. Nonetheless, we won't be too surprise to see the home side winning and bet365 pays offs at 3,50.
Schalke v Man Utd Prediction: Raul to Score at Any Time is definitely one of the better betting selections in that game. Also, we expect a tight match that won't produce a lot of goals -under 2,5 to be exact. In terms of the end result, we suspect that Schalke will either win or draw.