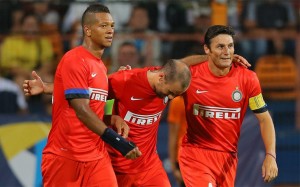 The new footballing season in Italay got underway yesterday, and it's now time for the most accurate Pescara v Inter prediction, on August 26th, 2012. Inter are trying to rebuild their team, having released ten players and hired a quite young and perhaps inexperienced coach – Andrea Stramaccioni, who used to work as the head coach of the Primavera squad that won the 2012 trophy. Pescara are the big unknown in this game. What's certain is that they just made their way into the Seria A, and now they will have to prove they have enough talents and skill set to stay up.
Ever since Mourinho left, Inter have been in no man's land, again, back to their old mistakes of constantly changing coaches and attracting players of doubtful quality. What has been even more bothering for their fans during the summer of 2012 is the fact that Moratti appears to have cut down the funds heavily, because Inter are no longer making headlines on the transfer market. In previous years, the Nerazzurri used to be among the biggest spenders in the football world, but now the idea is completely different – to start a new project under the guidance of a young coach that can work with fresh talents and bring in players from the club's ranks.
However, the reality is such that at least according to our Pescara v Inter prediction, the boys in black and blue will experience some serious difficulties during this game and in the next ones to come. This is mainly because they are lacking the necessary amount of talented individuals. Their weakest link is the midfield where they have just three players of top quality – Sneijder, Cambiasso, and Guarin who was permanently bought from Porto.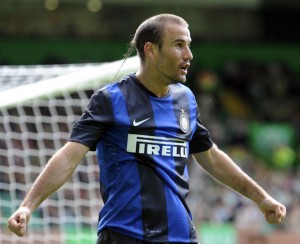 One of our Pescara v Inter predictions is that Palacio will score for his new club. The Argentine has been superb ever since joining the team, and has been on the scorer sheet practically ever game thus far (friendlies and the Europa League qualifiers). The odds on Palacion to Score At Anytime are set to 2.20.
Another good Pescara v Inter prediction is that the midfield of the club from Milano will consist Wesley Snejider, Eseban Cambiasso, Freddy Guarin and perhaps Javier Zanetti will be pushed a bit further up front, while his place at right back could be taken by the Brazilian Johnatan.
As you are probably aware of, the big news about this Pescara v Inter prediction is Antonio Cassano, who seems determined to get back to his best. Cassano and Pazzini swapped teams, and it will be interesting to see who gets where. He has been included in the group for this game, although his transfer became official just these last few days.
Our Pescara v Inter prediction is for a tough game, in which it won't be so easy for either side to take complete control and dominate. The odds for an Inter win are just 2.20. Pescare are valued at 4.33, while the draw is 3.60. All these numbers are courtesy of Bet365.com.
Pescara v Inter Preview and Prediction: Inter to Win @ 2.10