The defending champions LA Lakers are in for a deja vu tonight as they take on the Houston Rockets on Opening Night and NBA Commissioner David Stern will be at the Staples Center for the Ring Ceremony. It's a really interesting Houston Rockets at LA Lakers prediction, because last year, again these two teams met and it was Rockets that spoiled the Ring party for the champs as they went on to produce an upset by winning the game 101-91! Could a similar outcome be in store tonight?
All summer long, fans and experts have been talking about the Heat and how they will be the new champions this year and with all the attention being focused in South Beach, the LA Lakers have been quietly preparing to defend their title and make a 3-peat this year. They are the holders of the Larry O'Brien trophy so they have to be the main favorites to retain it this year. Miami might got all the hype about them, Celtics got Shaq and all the experience in the world, but it's the Lakers that have dominated the NBA courts over the past two years so why should this season by any different?
That's what makes this Rockets at Lakers prediction so special. The Rockets are sort of an enigma right now, because we are not really sure what to expect from them. They got Yao Ming back and that's a huge boost for sure, but who knows how long he will remain healthy. It has to be noted that they traded former Laker Trevor Ariza to New Orleans and that will certainly weaken them in the SG/SF position.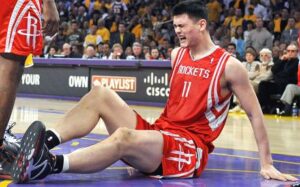 The 7-foot-6 Yao will be limited by coach Rick Adelman to no more than 24 minutes per game, because there are still some concerns over his health. Aaron Brooks who was voted the league's most improved player last season will be looking to continue on his strong performances and most guys in the NBA know that his game is hard to stop when he is having a good night. Houston traded away Tracy McGrady, but acquired Kevin Martin and he is one of the prime shooting guards in the league. Jordan Hill is a new addition to their roster and he will be looking to make an impact off the bench. However, Rockets best player still is the Argentine Louis Scola who had an excellent World Championship where he was scoring about 30 points per game. So it will be quite right for the sake of our Houston Rockets at LA Lakers prediction to say that a close game awaits.
An accurate Rockets at Lakers prediction has to account for the fact that Kobe still has not fully recovered from the injuries he carried last season. He had his knee surgically repaired over the summer which is good news, but he didn't have an operation on his index finger, because of the long time required for full recovery, so that might impact his shooting percentage.
Houston Rockets at LA Lakers Prediction: We expect a close game as Houston have Yao back in their lineup and with the support of Scoula and Brooks they should seriously challenge the champs. An interesting NBA betting pick for this game is to bet on Rockets to lead at the break and Lakers to make a comeback in the second half and win it.
NBA Picks:
1) Bet On Rockets To Win +7,0 points handicap@ 1,90

2) Bet On Rockets/Lakers as Half Time/Final Winner type of bet @ 5,25