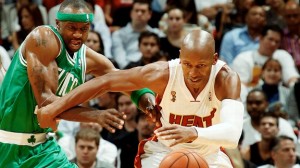 Our NBA Sunday predictions continue with the most accurate Heat at Celtics pick for January 27th, 2013. The early games have now become a tradition for the NBA on every Sunday as part of the league's ambition to popularize the game worldwide and give fans in Europe the chance to watch their favorite teams and players without having to stay up late at night. There is no doubt that Ray Allen's return to Boston is going to be the main event, and it would be interesting to see just what type of reception he is going to get from the local fans.
Allen disappointed all the hard-core Celtics fans by making this move to their biggest rival in recent years, and here is what he said in a pre-game interview: "I don't know what to expect from their side. But it's an interesting concept because I've always gotten a warm welcome, even before I started playing there. I just want to win. Everything else will take care of itself." One of our Heat at Celtics predictions for January 27th is that Allen will hear a lot of boos and whistles whenever he catches the ball, and Chris Bosh went on to confirm that by saying: "It's going to be all about Ray. Celtic fans, they're very fixated on the rivalry and 'How could you do that?' They're very passionate."
This Miami Heat at Boston Celtics prediction is not just about Ray Allen, but also about the momentum of each team going into this game. Boston have now lost their last six games and so they have dropped to the last playoff spot (8th) in the Eastern conference. Meanwhile, the Heat are first and have won four games in a row. Another defeat here for the green team will really put them in a crisis.
We've always maintained the position that part of the analysis leading to an accurate NBA prediction for a given day is examining the player matchups. An interesting fact here is that these two teams are among the league's worst in rebounding, but shouldn't come as a major surprise given that neither one has a dominant center. Chris Bosh plays the five spot, but he is more of a power forward. He will go up against Kevin Garnett who just like him is a bit undersized for a center, so it's going to be interesting to see who gets to play better.
Brandon Bass will square up against Udonis Haslem, and although Bass is a bit taller and bulkier giving him a purely physical edge, both of them are excellent mid-range shooters, have good inside game and hustle with loads of energy for every rebound.
Obviously one of the most interesting matchups in this NBA Sunday prediction would be the one between the two team's leading scorers Paul Pierce and LeBron James. Pierce has been averaging just under 20 points per game despite playing a career low 33 minutes in every contest. As expected, LeBron is having another MVP caliber season averaging nearly a tripple-double every game.
At the guard spots, Avery Bradley who is one of the best Celtics defender will be assigned the task of containing Wade, and we feel he will do a decent job at that. Rondo gives the home team a clear advantage at the point guard position. He posted yet another triple-double in their last game, which was an Overtime defeat at Atlantage after blowing a 25-point lead at half time.
Betting Verdict: Boston Celtics to Win @ 2.40