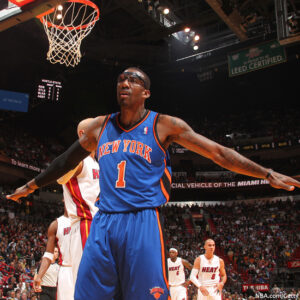 Two of the most attractive teams in the NBA go head-to-head tonight at the Madison Square Garden in New York, as we bring to you the most the accurate NBA pick for tonight with this Heat at Knicks prediction. One thing is certain, this game is an absolute "must see" and it's going to produce loads of highlights.
The key to this Heat at Knicks game lies in the analysis of both teams and the way they are heading into it. The big problem about the Heat right now comes from their head coach Erik Spoelstra. I mean the guy might be good and all, he made his way from being a video analyst for the team all the way to being a coach now, but looks like a puppet on a string. The Heat are not playing absolutely anything in offense. All they do is rely on either Wade or James, to make their own plays and create their own shots. It's kind of like a freestyle ball in the park for them.
The Knicks on the other hand are a pure "run and gun" type of team, that doesn't care much about defense as long as they score more points than their opponent. They live and die by that 3-point shot and if they have a good night behind the arc they can beat absolutely anybody, ask the Spurs for example (team with the best record in the NBA right now). So a lot about this Knicks vs Heat prediction will depend on how well New Yorkers shoot the three, and that mostly depends on Gallinary, Chandler, Douglas, and the new guy Williams. An interesting fact about the Heat though, is that they do have the best defense in the league right now allowing the fewest number of points per game – 92.5 ppg. So I would expect a grind out game in which the Knicks can only win by slowing down Miami and disabling any opportunities for fast breaks, as that's where LeBron and Wade are at their best.
| | |
| --- | --- |
| It was Wilson Chandler who was the man of the match for the Knickerbockers in their last win back on Wednesday against the Wizards, as he hit one big three after another, and he is playing the best basketball of his career. He is just 23-years old and his stats have been constantly improving over the past 4 seasons (since he entered the NBA). This season, he is averaging 17.1 ppg combined with 6 rebounds, while shooting 47% from the floor and 35% from beyond the arc. | |
Typically, the Heat would have Chris Bosh on Chandler, but now that Bosh is out with an ankle injury, the Knicks' #21 will have an even greater opportunity to make an impact in this game. The fact that Bosh is now out indefinitely for the Heat is another key factor about this particular NBA pick for tonight. Now, it's expected that LeBron James will be paired with Chandler in the Power Forward position and that should be a pretty interestnig match up. What's certain about this Heat at Knicks prediction is that Miami will be seriously missing the inside presence of Bosh who scored 26 points on their last trip to the Big Apple (113-91 win on Dec 17, 2010). Furthermore, LeBron has been avering over 35 ppg over his last 4 trips to NY and it's about time for him to have a bad game there or at least something more ordinary, so we expect him to slow down a bit in this particular game. Combine that with the absence of Bosh, and the Heat can all of a sudden be converted from the Big Three to the Big One (with #3 on the back), playing against an entire Knicks team that's pretty decent this season.
Another major setback for the Heat is the condition of Dwyane Wade, who has been out over the past week with a migrane. He has missed several practices lately because of the illness and he even had to wear sunglass during the practice session today in order to avoid another migraine attack.
| | |
| --- | --- |
| On the opposite end of things, the Knicks will be desperate to start another good run of consectuve victories, after dropping six straight and now find themselves just two games above the .500 mark with 23 wins and 21 losses. They got Danillo Gallinary back in the lineup and the Italian has been looking extremely sharp in their last four games. Raymond Chandler was back on track in their win against Washington and should have an advantage against the small Carlos Arroyo. There is no need to emphasize the impact that Amare has on their game and he is bound to have another huge night at the MSG. | |
Heat at Knicks Prediction: The New York Knicks are in ideal position to end their string of seven straight losses against a Heat team that's pretty banged up right now. Mike D'Anthony's men will be super motivated to impress their fans on a big night like tonight and all the factors in our Heat at Knicks analysis point to a home win here.