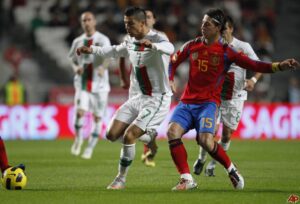 With just four teams left in the tournament, the defining moments are just ahead and tonight's Iberian derby will decide the first finalist. These are two most technically gifted footballing nations on the old continent, and it's certain that we will enjoy a high paced game that could potentially go into Extra Time. When it comes to making the most accurate football betting picks, you all know that we are right up there with the best, so let's get into the details of Spain versus Portugal on EURO 2012.
The Revenge Factor
There is an interesting historic connection in the contest between Portugal and Spain, because they met at the previous World Cup (South Africa 2010) at the last 16 stage, and Spain won 1-0, although it was a well balanced game. The Portoguese will be looking for a revenge, which could potentially give them that extra bit of motivation, and it's the small details like that which are decisive in big games.
A Clash Of Styles
It's a well known fact that Spain are essentially Barcelona, not only because of the lineup featuring no less than five Blaugarana players, but because of their playing style based on lots of short passes that often leave the defense dazed and confused. On the other hand, Portugal excel in playing on the counter attack, so this particular opponent should suit them. You saw how fast they counter attack with Ronaldo and Nani on the wings.
Spain has already won the last two major competitions with the 2008 EURO triumph against Germany followed by the 2010 World Cup trophy. No country has ever won two consecutive European Cups, and it would probably be a bit too much for the Spaniards to triumph once again. We all enjoy their brand of football and everyone else tries to emulate it, but they already had plenty of success. When you add the trophies won by Barcelona and Real Madrid and their complete domination at club level, plus all their youth teams winning practically everything, it's easy to say that Spain are going through their best period ever.
Ronaldo In Fine Form
Obviously for Portugal to be successful, they will need a strong performance from their best player. Fortunately for them, it looks like Cristiano has been on the rise lately and is hitting his top form at the most crucial period of the tournament. Here is what he had to say in front of the journalists yesterday: "The truth is that with a lot of sacrifice from the team, from our players, we started to play better, and I also started to play better. We lost our first match and then won all the others. I think that shows the great mental capacity of this team, and it didn't surprise me because I knew the goals would come. Luckily they have, and I have been able to help the team."
Portugal v Spain Prediction: To get our Porugal v Spain prediction at your email, register here.